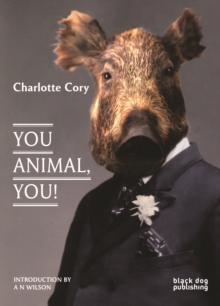 You Animal, You!
Hardback
Description
Charlotte Cory's photographic collages, skillfully reworking Victorian photographic visiting cards, resemble intriguing short stories, which invite viewers to speculate on the events behind the picture.
By creating highly subversive images of human bodies with animal heads, she creates a vision of the nineteenth century, an exciting post-Darwinian alternative universe in which animals are clearly in charge.
At first you laugh, but then you find yourself thinking...
Collecting Cartes-de-visite was a craze in Victorian times, called "cartomania".
It was the Facebook of its time. Millions were produced and are now mostly worthless.
Cory combines these poignant images with portraits taken of stuffed animals from museums and her own collection.
By recycling these dispossessed images and long-dead creatures, she gives them all a new lease of life.
Brighter, more colourful, more interesting and more disturbing than before.
Highly illustrated, great fun and at the same time oddly serious, You Animal, You! is an in-depth look at the world of this unusual artist that will delight her fans and interest newcomers to her work in equal measure.
Information
Format: Hardback
Pages: 160 pages, 213 colour and b/w illustrations
Publisher: Black Dog Press
Publication Date: 22/05/2012
Category: Art & design styles: from c 1960
ISBN: 9781907317590