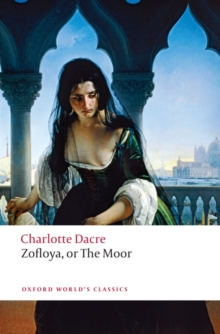 Zofloya : or The Moor
Paperback
Description
'Few venture as thou hast in the alarming paths of sin.' This is the final judgement of Satan on Victoria di Loredani, the heroine of Zofloya, or The Moor (1806), a tale of lust, betrayal, and multiple murder set in Venice in the last days of the fifteenth century.
The novel follows Victoria's progress from spoilt daughter of indulgent aristocrats, through a period of abuse and captivity, to a career of deepening criminality conducted under Satan's watchful eye.
Charlotte Dacre's narrative deftly displays her heroine's movement from the vitalized position of Ann Radcliffe's heroines to a fully conscious commitment to vice that goes beyond that of 'Monk' Lewis's deluded Ambrosio.
The novel's most daring aspect is its anatomy of Victoria's intense sexual attraction to her Moorish servant Zofloya that transgresses taboos both of class and race.
A minor scandal on its first publication, and a significant influence on Byron and Shelley, Zofloya has been unduly neglected. Contradicting idealized stereotypes of women's writing, the novel's portrait of indulged desire, gratuitous cruelty, and monumental self-absorption retains considerable power to disturb. The introduction to this edition, the first for nearly 200 years, examines why Zofloya deserves to be read alongside established Gothic classics as the highly original work of an intriguing and unconventional writer.
ABOUT THE SERIES: For over 100 years Oxford World's Classics has made available the widest range of literature from around the globe.
Each affordable volume reflects Oxford's commitment to scholarship, providing the most accurate text plus a wealth of other valuable features, including expert introductions by leading authorities, helpful notes to clarify the text, up-to-date bibliographies for further study, and much more.
Information
Format: Paperback
Pages: 320 pages, 1 frontispiece
Publisher: Oxford University Press
Publication Date: 01/12/2010
Category: Literary studies: c 1800 to c 1900
ISBN: 9780199549733
Other Formats
Paperback / softback from £15.85
Hardback from £18.95
Paperback from £11.95
Free Home Delivery
on all orders
Pick up orders
from local bookshops
Reviews
Showing 1 - 4 of 4 reviews.
Review by amydross
16/06/2015
In all fairness, this book is terrible. It's garbage -- utterly self-indulgent, riddled with improbabilities and plot holes, ludicrously didactic, and sexist and racist to boot. And yet, for all that, it's almost incredible. Like most bad literature, it sometimes feels like you're gazing directly at the author's soul, at all her neuroses and cultural assumptions and delusions of grandeur laid bare. All of which makes it a deeply engrossing (if disturbing) document of its cultural context.
Review by StellaSandberg
16/06/2015
I disagree with the previous reviewer that "Zofloya" is terrible. True, it is racist and full of unnecessary adjectives, exclamation marks and moralizing plot commentary. However, rather than being sexist I believe it makes use of sexist conventions of condemnation to be able to revel in female desire. I also believe a lot of the moralizing is similarly utilized simply to make a shocking content acceptable at the time of publication. In this I think it is vastly superior to "The Monk", even though it might be somewhat derivative of the previous Gothic potboiler. The greatness of this novel lies in the narrator's sympathy with the bold Victoria (evidencing a female author, as this is not your common titillating account of vicious women) and in the diabolical fascination of Zofloya, prefiguring Byronesque Romantic heroes as well as Harlequin Alpha males. Although the character of Zofloya might draw upon racist stereotypes, it is nevertheless a daring move to make a black male character such an obvious object of desire - and so majestic and commanding, at that. I find this racialisation of Milton's Satan (who is, after all, a Romantic hero-villain rather than a villain proper) highly original. I also think that the plot is actually more to the point and better paced than in many contemporary novels (Brown's "Wieland" springs to mind) and that the lurid style works well to provide an engrossing read. To me it feels playfully parodic rather than bathetically overwrought - I don't mean that the novel is pure parody but it is definitely Gothic in the comic mode, taking obvious delight in the hideous rather than anxiously smothering such delight under a massive layer of moral repulsion or tragic pathos. I recommend it as an original and entertaining read to anyone interested in the history of Gothic literature.
Review by veilofisis
16/06/2015
Zofloya; or, The Moor is as much the product of one woman's palsied, eccentric neurosis as it is the chief example of Matthew Lewis' influence on the Female Gothic. Charlotte Dacre, firmly setting aside the pastoral 'terrors' of Ann Radcliffe, establishes in her most widely-read novel conventions of female sadism that were, for their time, near-revolutionary. That they were not picked up by other authors until considerably later in the 19th Century is intriguing. Still more intriguing is that Zofloya; or, The Moor is, despite its almost shocking cruelty, a novel concerned to its very last lines with the supremacy of proper, uncorrupted morality.But how is one to demonstrate the virtue of morality without first detailing, for several hundred pages, the absolute depths of corruption and depravity? This is no Torture Garden, certainly, but, for its day, the concerns of Zofloya; or, The Moor were certainly controversial: shameless adultery, scandalous violence, the suggestion of miscegenation, Satanism, liberated sexuality. And where else would a proper British novelist set these scenes of Gothic excess than in recondite, libertine Venice? Zofloya uses its 'ultimate morality' as a scapegoat: Dacre's attention is near-entirely devoted to the painted perversity of her subjects. Her own life is a testament to the enduring mystery of 'created' identity, subject, and morality; that there is a war, though, taking place among the pretty ruins of her muse is quite obvious: her most interesting creation, Victoria, is at turns a prototype of the justified feminist and, conversely, the villain of what descends quite neatly into one of the precursors of the 'Slasher' film. But the incongruity of Dacre's irreconcilable compulsions is even more evident in the construction of her mysterious, titular 'Moor,' Zofloya, who only appears a little over halfway into the book: vacillating between extremes of physical beauty and physical repugnance, charm and repulsion, vile sorcerer and loyal protector—it is as though Dacre had painted the picture of her fantasies of miscegenation and diabolism, and then, fearing the effect her own proclivities might have on both her work and her reputation, quickly sought to repudiate them within the space of a few paragraphs. The curious thing is that she hasn't removed the more obviously erotic paeans to the Moor at all: apparently repudiation is enough to clear her of any 'immoral' indulgence in her construction of a 'moral' fable. To a modern audience, though, largely free of the cancers of racism, these passages of disavowal will seem almost absurdly irrelevant, and, often, highly confusing; but thus is the nature of Dacre's neurosis, and this contrast in perspectives was not entirely lost on contemporary critics. It is, perhaps, surprising that Zofloya; or, The Moor had a profound influence on the young Percy Shelley, one of the more graceful poets in our language; but Dacre's prose is remarkably economical for its time, and there is actually great beauty to be found here. That it is also the product of a mind that lived as Gothic a life as the characters she created, however, is immediately apparent, and this novel appeals as much to general curiosity as it does to the search for an entertaining narrative or academic analysis.
Review by StevenTX
16/06/2015
Charlotte King was born in 1772, the daughter of a moneylender named Jacob Rey who used the assumed name of John King in his business dealings. Charlotte became a writer in her 20s, using at least four pseudonyms including that of "Charlotte Dacre" for her most enduring work, Zofloya, or The Moor. Little is known about her private life except that she gave birth to three children before marrying for the first and only time at age 43. The mystery and elusiveness surrounding her life is only appropriate for the author of a minor Gothic masterpiece.Zofloya, or The Moor is set in late 15th century Venice. We are introduced to the happy and noble family of the Marchese di Loredani. His wife, the euphoniously-named Laurina di Loredani, is a model of physical and spiritual beauty. They have two children, the proud and dashing Lorenzo and the stunning, raven-tressed Victoria. Victoria, they admit, is rather spoiled and demanding, but with proper instruction she will surely grow out of it and be as virtuous as her mother. But Laurina's virtue is put to the test by a libertine houseguest who makes it his goal to seduce her. When he succeeds, the family falls apart, and one mistake after another plunges the father into grief and the two children into wickedness.Victoria takes her mother's infidelity as a sign that all morality is bogus. She lives only to please herself, and is still enough the spoiled child to believe that what she wants she should have, no matter the cost. She becomes increasingly ruthless in pursuit of the object of her passions, but it isn't until midway through the novel that Victoria contemplates murder and accepts the offered help of a family servant, Zofloya.Zofloya is a disenfranchised Muslim from Spain. His background, as well as the historical sketch which accompanies it, is very similar to that of the Moorish characters in Jan Potocki's novel The Manuscript Found in Saragossa, portions of which were first published just months before Zofloya, or The Moor appeared. Dacre and Potocki appear to have drawn inspiration from the same contemporary sources. There are other similarities between the two novels.Zofloya's aid, and his interest in Victoria, are at first easily explained. But, gradually, as Victoria entangles herself deeper into a web of crime, the Moor's actions and powers begin to seem supernatural. The pledges he draws cleverly from his victim soon leave little doubt that he is Satan himself.Zofloya, or The Moor is soundly rooted in the Gothic tradition, with numerous allusions to two giant works of that genre, Ann Radcliffe's The Mysteries of Udolpho and M. G. Lewis's The Monk. The resemblance to the latter is much stronger, as we are treated to gory scenes of murder and combat, moldering corpses, dungeons, insane ravings, and supernatural apparitions. Victoria is one of several females who are honest about their sexual desires and nonchalant about the institution of marriage in a manner uncharacteristic of the time. But she refuses to be a sympathetic heroine. "Do I repent me of that which I have done? No,--I regret only the state to which circumstances have reduced me." In his fine introduction to the Oxford World's Classics edition of the novel, Kim Ian Michasiw asserts that it is this defiance which has cost Zofloya, the Moor its place in the literary canon. "A mother-hating triple murderess who dreams of sexual congress with a demon of colour has not been judged a proper model for the young reader either in the last century or in this. And the woman author who created such a being... can scarcely deserve shelf space next to Mansfield Park or Vilette."After leading the reader down a treacherous slope of lust, revenge, violence and insanity, Dacre closes with a brief lesson on repentance and redemption from an angel representing a god that has scarcely been mentioned heretofore. The Marquis de Sade closed some of his works in similar fashion to make them publishable, and didn't fool anyone either. Zofloya, or The Moor is pure sensationalism from the pen of a talented young lady who apparently dozed through her geography lessons but was otherwise well-read. A more introspective Victoria di Loredani might have made a worthy female counterpart to Faust or Victor Frankenstein, but instead she is purely, astonishingly, wicked.
Also in the Oxford World's Classics series | View all