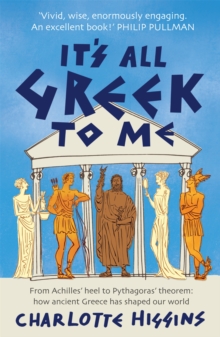 It's All Greek to Me : From Achilles' Heel to Pythagoras' Theorem - How Ancient Greece Has Shaped Our World
Paperback
Description
With everything from Achilles' heel to Pythagoras' theorem, from Oedipus and his complex to Margaret Thatcher and Thucydides, this book aims to unlock the richness of the Greek world and show just how profoundly it has informed our own.
Consider the way we think: about right and wrong, about the nature of beauty, goodness, and truth.
What, in the end, it is to be a human being amid the immensity of the universe.
All this, and more, we have learned from the ancient Greeks.
They moulded the basic disciplines and genres in which we still organise thought: from poetry to drama, from politics to philosophy and history to medicine.
Packed with useful cribs - history timelines; a who's who; a guide to the Greek gods; a map for those who struggle to know their Lemnos from their Lesbos - It's All Greek To Me is a bluffer's guide in one sense, that will give you a helping hand around Greek democracy, the Persian Wars, or the Parthenon.
But it is much more than that; it is a book that aims to bring ancient Greece back into the mainstream of life - where it belongs.
Information
Format: Paperback
Pages: 320 pages
Publisher: Short Books Ltd
Publication Date: 02/07/2009
Category: Ancient history: to c 500 CE
ISBN: 9781906021597
Free Home Delivery
on all orders
Pick up orders
from local bookshops