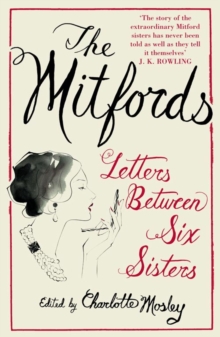 The Mitfords: Letters Between Six Sisters
Paperback
Description
Carefree, revelatory and intimate, this selection of unpublished letters between the six legendary Mitford sisters, compiled by Diana Mitford's daughter-in-law, is alive with wit, passion and heartbreak. The letters chronicle the social quirks and political upheavals of the twentieth century but also chart the stormy, enduring relationships between the uniquely gifted - and collectively notorious - Mitford sisters.
There's Nancy, the scalding wit and bestselling novelist; Pamela, who craved a quiet country life; Diana, the fascist wife of Sir Oswald Mosley; Unity, whose obsession with Adolf Hitler led to personal tragedy; Jessica, the runaway communist; and Deborah, the socialite who became Duchess of Devonshire. Writing to one another to confide, tease, rage and gossip, the Mitford sisters set out, above all, to amuse.
A correspondence of this scope is rare; a collection penned by six born storytellers is irreplaceable.
Information
Format: Paperback
Pages: 830 pages, 40 b/w illus, 32 b/w plates (32pp)
Publisher: HarperCollins Publishers
Publication Date: 05/05/2008
Category: Biography: general
ISBN: 9781841157740
Free Home Delivery
on all orders
Pick up orders
from local bookshops
Reviews
Showing 1 - 4 of 4 reviews.
Review by charbutton
16/06/2015
At just over 800 pages this collection of letters, covering the period 1925 to 2003, is a long but very interesting read.The Mitford sisters were born between 1904 and 1920. They are Nancy (writer), Pamela (rural, farming type), Diana (fascist), Unity (Hitler-adoring fascist), Jessica (communist) and Deborah (Duchess of Devonshire). Crude descriptions of each but these are the ones that Charlotte Mosley uses to help the reader quickly recognise who is writing to whom.The letters provide a fascinating insight into family relationships and reinforce the adage that you can't choose your family. Up to about 1960 there is little emotional detail in the letters, even when children die and divorces happen. Of course there are major political disagreements between the sisters but it is only as Nancy and Jessica being to publish their memoirs that more emotional thoughts come to the forefront. I think this is the most interesting aspect of the book for me. Nancy and Jessica both write about their horrible childhood experiences and are scathing about their parents. This does not accord with the remembrances of Diana, Deborah and Pamela (Unity died in 1948). They feel that N and J have been deeply disloyal, a feeling that lasts well into old age for all of them and is reinforced by various Mitford biographies that repeat these semtiments over the years. However, in 2000 Diana revisits some of Pamela's letters from 1925 and is surprised by "how unfairly strict Muv seems to have been". Memories of childhood are so subjective.I also enjoyed seeing how the relationships between the sisters changed over time and distance. For example, once Nancy has died Deborah and Diana become much more critical about her and often discuss her dishonesty and other dislikeable character traits that were merely hinted at when she's alive.The sisters' relationships with men are also interesting. Diana and Nancy fall deeply for men with very strong and really quite unpleasant characters, but they stay true to them and defend them to the last. Many of Diana's letters talk about her efforts to deflect criticism of her husband, Oswald Mosley.The breadth of experiences the sisters have is astounding. Diana spent time in Holloway prison during the war because of her husband's political activitites. Jessica elopes with a communist. Deborah turns into a skilled business women and transforms Chatsworth House into one of the UK's most visited tourist attractions. Nancy receives the Legion d'Honneur. They all eventually publish books. And they knew so many people, from Evelyn Waugh to JFK to Nicki Lauder.I suppose one can't review this book without mentioning fascism. Unity was absolutely obsessed with Hitler and engineered a meeting with him in 1935 that led to a friendship that lasted until 1939 when Unity tried to kill herself after the declaration of war. It's so hard to understand her. In 1935 she wrote "the Fuhrer was heavenly...he talked a lot about Jews, which was lovely". I found this absolutely chilling. I'm surprised that only Jessica condemned Unity's behaviour outright. I suppose that, as with Diana's relationship with Oswald Mosley, Unity found Hitler to be very charasmatic and she agreed with much of his politics. I guess she wasn't the only one.
Review by schmal06
16/06/2015
A fascinating compilation of the letters between the Mitford sisters. Remarkably, the book only contains 5% of all the letters in the prolific correspondence. Even if you have no prior knowledge of the Mitfords (like me) you will find this book utterly engrossing as several of the sisters were writers -and good ones too! It is well footnoted with many explanatory inserts (though it takes a lot of flipping back and forth in the beginning in order to get used to some of the nicknames). It is funny, shocking, heartbreaking, and always a bit glamorous. Highly recommended.
Review by MrBookface
16/06/2015
An interesting insight into the crazy world of the Mitford sisters, rendered in their own words. A good counterpoint to the many books written about them. Very long, though, so probably not recommended to those with just a passing interest (like myself unfortunately). However, I can see that same length being a major plus point to devotees.Anyway, who'd a thought it? Nancy was a troubled, two-faced shrew; fascist-sympathiser, Diana, a loyal, devoted mother; and Deborah, now Duchess of Devonshire, a hard-working business woman with a wonderfully dry sense of humour. Well, you live and learn.
Review by Bookoholic73
16/06/2015
I found this book fascinating. Stretching over a span of more than seventy years, meeting and knowing some of the most illustrious (and notorious) people in the world, from Winston Churchill, the Kennedy family, and numerous authors to the tops of nazi-Germany, from a perspective that I can only discribe as extremely privilaged, but at the same time NOT leading to happiness- this correspondece is bound to be interesting just from the context of when and where the sisters lived, and whom they knew. Their choices however make their lifes even more extraordinary and the fact that all of them (bar one) are published authors makes the read even more enjoyable. I did not know everything and everyone that featured in the correspondence, but thankfully we have internet and I used Google and Wikipedia a lot in order to get a better insight. Since the letters were edited by the daughter in law of Diana, one of the sisters famed for her not so kosher political convictions, I also cannot but wonder how much there must have been that was NOT included in the book. Still, the family relationships, diversity of choices, political opinions and destinies alone make this book an excellent read.