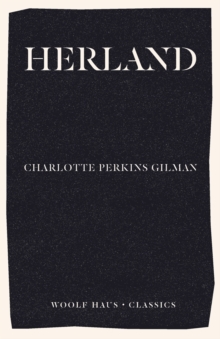 Herland
Paperback / softback
Description
'The forgotten feminist classic about a civilisation without men ... deeply, viscerally empowering.' - The Guardian
In 1915, Charlotte Perkins Gilman - a feminist, futurist, and activist - published Herland, a story about an all-women utopian society hidden in a jungle. They shared all labor and child care equally and reproduced without men. For generations, they lived peacefully, communally, and happily-until three men barged in, disrupting the order.
Gilman's story was an allegory for her very real philosophy about what it would take for women to escape oppression: having full and equal opportunities to participate in all aspects of society, which meant turning all childcare and household work into a paid profession.
About the author
Charlotte Perkins Gilman (1860-1935), also known as Charlotte Perkins Stetson, her first married name, was a prominent American humanist, novelist, writer of short stories, poetry and nonfiction, and a lecturer for social reform. She was a utopian feminist and served as a role model for future generations of feminists because of her unorthodox concepts and lifestyle. She has been inducted into the National Women's Hall of Fame. Her best remembered works today are her semi-autobiographical short story The Yellow Wallpaper, which she wrote after a severe bout of postpartum psychosis; and Herland, the rediscovered feminist classic about a civilisation without men.
Praise for Herland
'The forgotten feminist classic about a civilisation without men ... deeply, viscerally empowering.' - The Guardian
'A seriously funny book, related to the traditions of Utopian literature and set apart from that tradition by its extraordinary wit.' - The New York Times
'Charlotte Perkins Gilman's vast writings on ideal societies were the catalyst for the feminist utopia Herland.' - The New Yorker
Information
Format:Paperback / softback
Pages:192 pages
Publisher:Woolf Haus Publishing
Publication Date:06/06/2020
Category:
ISBN:9781925788730
Other Formats
Paperback / softback from £2.99
EPUB from £2.66
Hardback from £15.53
Paperback from £8.10
Also by Charlotte Perkins Gilman | View all