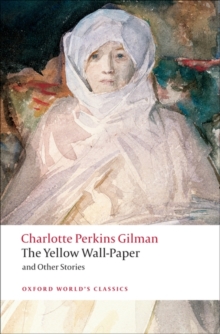 The Yellow Wall-paper and Other Stories
Paperback
Description
Charlotte Perkins Gilman was America's leading feminist intellectual of the early twentieth century.
The Yellow Wall-Paper and Other Stories makes available the fullest selection of her short fiction ever printed.
In addition to her pioneering masterpiece, 'The Yellow Wall-Paper' (1890), which draws on her own experience of depression and insanity, this edition features her Impress 'story studies', works in the manner of writers such as James, Twain, and Kipling. These stories, together with other fiction from her neglected California period (1890-5), throw new light on Gilman as a practitioner of the art of fiction. In her Forerunner stories she repeatedly explores the situation of 'the woman of fifty' and inspires reform by imagining workable solutions to a range of personal and social problems.
ABOUT THE SERIES: For over 100 years Oxford World's Classics has made available the widest range of literature from around the globe. Each affordable volume reflects Oxford's commitment to scholarship, providing the most accurate text plus a wealth of other valuable features, including expert introductions by leading authorities, helpful notes to clarify the text, up-to-date bibliographies for further study, and much more.
Free Home Delivery
on all orders
Pick up orders
from local bookshops
Reviews
Showing 1 - 2 of 2 reviews.
Review by Zommbie1
16/06/2015
Synopsis: A nameless narrator tells of a summer in a big house in the country where her physician husband has taken her on doctors orders in order for her nerves to get better (she is suffering from what we now know to be postpartum depression). The doctor has forbidden her (according with the thinking of the day) to have any form of mental stimulation, including writing. However, she manages to write in a journal and it is through this journal we, the readers, get to follow her journey into madness.My Thoughts: I skim-read this short story for my survery course last semester and really wanted to get back to it and read it properly. Having my seniors read it for their unit on poetry and texts seemed like a perfect time to do it. Then when the Women Unbound challenge was announced it seemed perfectly providential.I liked this story because it touches on something that is close to my heart, women's mental health. The story was written at the turn of the last century and it shows the vulnerability of women in a society that already saw them as weak and then compounded the problem by not acknowledging mental illness. Actually, they saw mental illness as something that could be overcome by not doing anything. And as can be seen by this story, this had dire consequences.Through the journal we get to follow the decent from a relatively mild form of postpartum depression into a raging psychosis. By infantilising his wife the husband and the doctors in the story isolate and compound the problem. By cutting off access to almost all of her friends and relatives the woman is left to ponder the pattern on the decaying wallpaper in the prison like nursery that her husband has designated as her room.I found this to be a fascinating story of the decent into mental illness and a powerful commentary on the time when it was written as well as giving an insight into the life of the author herself. A quick but powerful read I recommend to anyone!
Review by thewanderingjew
16/06/2015
These stories are written in a different time frame, almost a century and a half ago, they are more literature than the made for TV tales turned out furiously on the computers of modern day authors, turned out with stories of violence and sex to attract an audience, rather than with interesting stories about life's challenges. This collection of short stories was simply a pleasure to read. Each one, on its own, had a different theme about women. One story was about a misunderstood woman going mad after the birth of her child, when her hormones were batting each other around like baseballs.Another was about a young woman wronged, who haunts the dreams of those living in the home she once lived in with her fatherless child. The next is about a pampered woman who finds her own strength and grows independent. Then there is the story of a bitter, over zealous aunt who makes a deceitful bargain with her great nephews, only to be chastised by the minister for her duplicity.The selection of stories is wholesome. There is a mixture of the real with the mystic. There is no stupid sex or foul language. There is really no violence to speak of and there are happy endings, of a fairy tale nature, in some cases. They cover the gamut of women's issues, career, emotion, freedom, purpose, love, marriage, divorce, devotion, loyalty, faithfulness, religion, responsibility, and even vengeance, but all of the stories are treated in such a way that they do not tax the reader, but rather they entertain perfectly with the style and the message.
Also by Charlotte Perkins Gilman | View all
Also in the Oxford World's Classics series | View all