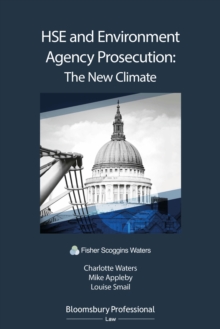 HSE and Environment Agency Prosecution: The New Climate
Paperback / softback
Description
The number of company directors and senior managers prosecuted for health and safety and environmental offences has increased since new Sentencing Guidelines were introduced in February 2016 and February 2014 respectively.
Health and Safety prosecutions alone have trebled between 2015 and 2016. The new Sentencing Guideline toughened penalties for health and safety and corporate manslaughter offences.
Under the new measures, which is having the biggest impact on companies in the 'medium' sized category with turnovers of between GBP10m-GBP50m, the scale of fines varies according to the turnover of the company but can exceed GBP20m for the very worst cases involving corporate manslaughter, and potentially more for the largest companies.
These businesses are therefore now seeing fines removing a higher proportion of their turnover than any other business group and need to be legally advised of ways in which to ensure that they are not in a position to be exposed to these fines.
The total value of fines imposed following HSE prosecutions in the six months since the new sentencing guideline was introduced rose 43% on the same period in the previous year.
Fines totalled GBP20.6m from February to August 2016, against GBP14.4m in February to August 2015.
In September 2016 Network Rail was fined GBP4m over an incident involving a passenger being killed by a fast rain at a level crossing, while Merlin Entertainments received the highest fine to date of GBP5m for the Alton Towers rollercoaster crash.
A production company involved in making the film Star Wars: The Force Awakens was fined GBP1.7m after Harrison Ford broke a leg when he was hit by a steel prop door. Health and Safety fines have historically been higher profile than Environment Agency prosecutions, but since the introduction of the new Sentencing Guideline in relation to EA prosecutions, these too have resulted in very high profile cases.
In January 2016, Thames Water became the first company to receive a GBP1 million fine under the new regime; swiftly followed by Yorkshire Water and Powerday Plc, which both received fines of GBP1m or above.
More recently, in December 2016, Southern Water was fined a record-breaking GBP2m.
Thames Water was in court again in February 2017, and is expected to receive another record-breaking fine when sentenced later this month.
Between April 2015 and March 2016 almost 1000 illegal waste sites were shut down by the Environment Agency under the new Guideline with fines for those involved in waste activities rising sharply from 12% to 19% in 2015, totalling GBP707,000, an increase of GBP324,000 on total fines handed out for illegal waste activities in 2014. With the landscape for prosecutions and sentencing having changed companies need to ensure that their risk management and compliance procedures are in place.
As a result companies are increasingly turning to legal practitioners for advice on how to cope with the new climate.
With fines now based solely on the guidelines table companies cannot afford the potential harm the fines can cause to their organisation's turnovers.
They need to be prepared. Written in a practical style with the use of checklists, flowcharts and case studies, HSE and Environment Agency Prosecution: The New Climate looks at the application of aspects of managing the risks of HSE and EA prosecutions.
Each chapter starts with a summary of what the chapter covers and contains a list of the cases which will be discussed in the chapter.
An Appendix contains a short summary of each of the cases referred to in the text highlighting the legislation, any other cases and fines passed down with a cross reference to where they are covered in detail in the text.
This enables the user to get a quick snapshot of whether a case is of relevance to their issue and where to go in the text to find more information. HSE and Environment Agency Prosecution: The New Climate is an essential new text for criminal, environmental, company and personal injury law practitioners who offer advice on these issues to companies and for in-house legal teams.
The book is also of relevance to company directors and health and safety professionals.
Free Home Delivery
on all orders
Pick up orders
from local bookshops