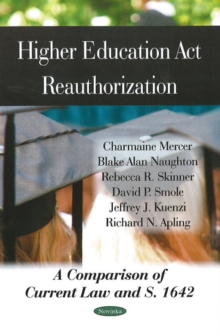 Higher Education Act Reauthorization : A Comparison of Current Law & S. 1642
Paperback / softback
Description
The Higher Education Act of 1965 (HEA) as amended, authorises the federal government's major federal student aid programs (Title IV), as well as other programs which provide institutional aid and support (Titles II, III and V).
In addition, the HEA authorises services and support to less-advantaged students (select Title IV programs), and to students pursuing international education and certain graduate and professional degrees (Titles VI and VII).
The programs authorised bythe HEA are administered by the U.S.
Department of Education (ED), and made available an estimated 70% ($94 billion) of all federal, state and institutional aid awarded to post-secondary students in 2005-2006 (excluding tax benefits).The 108th and 109th Congresses each considered but did not complete the HEA reauthorization process.
For the 110th Congress, the Higher Education Amendments of 2007 (S. 1642) was introduced by Senator Kennedy on June 18, 2007, and approved by the Senate Health, Education, Labour, and Pensions Committee (HELP)on July 10th.
Additionally, much like what occurred during the 109th Congress, this year the reauthorization of the HEA has become heavily intertwined with the budget reconciliation process, as both the Senate HELP Committee and the House Education and Labour Committee have reported budget reconciliation bills that would make numerous changes to programs and provisions contained in the HEA.
This book provides a side-by-side comparison of the HEA reauthorization proposal in the HELP Committee-passed version of S. 1642 to current law. The side-by-side is generally organised to correspond with the organisation of S. 1642. The book begins with a brief overview of the titles and major programs of the HEA, and includes a short summary of the larger issues and proposed changes in S. 1642 for each title and program.
Information
Format:Paperback / softback
Pages:76 pages, tables
Publisher:Nova Science Publishers Inc
Publication Date:01/11/2008
Category:
ISBN:9781604569551