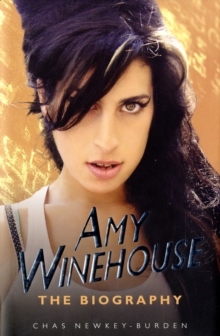 Amy Winehouse : The Biography
Hardback
Description
Amy Winehouse is the most talked about singer-songwriter of her generation.
Her soulful voice has won her critical acclaim, scores of awards and fans from all walks of life, while her turbulent and decadent lifestyle has made her an irresistible target for the popular press.
But who is the real Amy Winehouse? This fascinating biography traces her story from her childhood in North London, through to her eventful time at the Sylvia Young Theatre School.
It follows her as she takes early steps to fame under the management of Pop Idol guru Simon Fuller and then signs her first deal with Island Records.
Her bestselling second album "Back To Black" has earned her nominations for Grammys, earning Amy growing international acclaim.With original interviews and revealing anecdotes included along the way, "Amy Winehouse: She Told Us She Was Trouble" tells the gripping 'behind the scenes' story of this living legend, right up to 2008, when her husband Blake Fielder-Civil faced trial.
Chas Newkey-Burden is the first biographer to chart the rise of this extraordinary performer and wild, rebellious character. His compelling portrait is an exclusive look at the life of the country's greatest living singer.
She told us she was trouble, but we know that she's so good.
Information
Format: Hardback
Pages: 239 pages
Publisher: John Blake Publishing Ltd
Publication Date: 14/03/2008
Category: Rock & Pop music
ISBN: 9781844545636
Other Formats
Paperback from £5.95
EPUB from £3.99
Free Home Delivery
on all orders
Pick up orders
from local bookshops
Reviews
Showing 1 - 2 of 2 reviews.
Review by AlexanderDS
16/06/2015
This biography is fluently written. It was published in 2008, which sometimes leads to phrases that are painful to read in 2012. The author is clearly smitten with Amy Winehouse and barely manages to hide that. For an author of a biography, he's not neutral enough for me, but his bias is of the adorable kind. I do think that he tries to downplay the alcohol and drug abuse a tad bit too much. He writes about Amy's life and about her musical career, always making sure that the reader doesn't forget her talent. He does this in an enchanting way. I never was an outspoken fan of Amy Winehouse, but I never had much of a problem with her either. Still, reading this biography makes me want to listen to and discover all her music. And in the end, I think that's what the author wanted to achieve.
Review by Susini
16/06/2015
Amy WinehouseWednesday, January 02, 2013 Chas Newkey-Burden is an experienced author having written around 30 books. This version of his biography of Amy Winehouse was published in 2008. An updated one came out within weeks of the singer's death, for which he took some stick – cashing in and that. There will always be different views about this. There is an argument for being more critical of it had he written nothing previously about her, and rushed to print without doing the heavy lifting at the research end, but his book was already out by the time she died and he might have felt he had the right to be ahead of the posse.When Amy Winehouse died I was with my family in East Cork. It was the same week that a right wing Norwegian maniac decided to commence his own murderous Passover in protest against Islam and immigration. Just earlier Winehouse had been unable to complete a concert in Serbia and was booed off the stage. Out of her mind on some substance, or a number of them, the warning signs were there, yet I was still taken aback. There was a hope somewhere that she would recover from what ailed her and get back to her brilliant best. It was not in the stars for stars of her ilk, and so she joined that 27 Club where Kurt Cobain, Jimi Hendrix, Janis Joplin and Jim Morrison were already at the table waiting for the next uninvited guest to arrive. It was a fate Newkey-Burden referred to when he said that Amy was approaching that 'dangerous' rock and roll age. From what I read today it seems at least one broadsheet had her obituary written well in advance.I loved her music. It was haunting and her crooning stirred something primordial in the mind. It probed deeper than most other works. When she stopped speaking and started singing she brought words to life, her voice a real special act of creation. The talent simply oozed out through her pores. The brilliant Back to Black I listen to frequently, or did until my music player crashed.She was a big earner – for the tabloids which feasted on her decline like a vulture. Back in 2007 it was impossible to pick up a paper without reading something blazing out about 'Wino'. Nominated in 6 categories at the 2007 annual Grammy awards the same year she scooped five of them although unable to attend the ceremonies. As she deteriorated she took on one occasion to accusing her jeering audience of being 'monkey cunts.'A libertarian attitude permeated her outlook. Cannabis got a grip of her literally and controlled her, devaluing the use of liberty many associate with the drug. An admitted heroin and cocaine addict her days seemed numbered to many who observed the music scene. Newkey-Burden alluded to that when he compared her to Nancy Spungen. The difference of course was that Amy had an abundance of talent whereas Nancy had none, resorting at times to the oldest profession to feed her and Syd's vicious drug addiction. Johnny Rotten in his own inimitable way once publicly derided Nancy as a scuzbucket. The comparison with Spungen only worked because her biographer juxtaposed her marriage to Blake with the Spungen-Sid Vicious relationship. We know how that ended.Described by the BBC as both worshipped and tortured she was hugely popular in the gay community without being deferential to it. She was once described as a man's man, meaning she was not prepared to play the psychological games she accused women of playing.Her marriage to Blake Fielder Civil was a train wreck waiting to happen. Her father Mitch said 'Blake's got worse because of Amy and she's got worse because of Blake.' Amy was in a bind, feeling she couldn't beat drugs without Blake. She certainly wasn't going to beat them with him. But both parents revealed they did think her relationship with Blake heralded her plummet from the summit.Rebellious at school where she got a D in music, the result of a teacher refusing to submit her work because by her own admission Amy was so 'nasty', her precocious talent found other outlets. She was not just the vain owner of a pretty face that some Chapman-Chin combination could stick lyrics and a musical note to. She was to borrow from the author not 'factory farmed.' Even where the song might not be appealing, and some of them weren't, the voice made her as the Shangri-Las once sang, the leader of the pack. Yet she was frustrated at having to work in the music industry 'with so many idiots.' But as they were nice idiots she bit her tongue.Conventions were something to be ignored: hers was a moral universe where being unfaithful to the partner was not just something to be done but was simply alright. In that respect she appears to have practiced what she preached.Described as being both charismatic and eccentric she had her own views. Of Madonna she said 'she's an old lady. She should get a nice band, just stand in front of them and fucking sing.' The world of music sadly is all the poorer because Amy didn't become an old lady.Chas Newkey-Burden, 2008. Amy Winehouse. John Blake: London. ISBN 978-1-84454-536-6