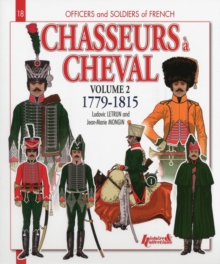 Chasseurs a Cheval Volume 2: 1779-1815
Paperback / softback
Description
The Chasseurs a cheval, a type of French light cavalry, date from 1743 when an independent unit (Fischer's Volunteer Company of Chasseurs) was raised during the Austrian War of Succession to counter the pandurs and Croats employed as irregulars by the Austrian army. Originally a mixed corps of light infantry and horsemen, this force proved sufficiently effective to warrant the creation of a single corps: Dragoons-chasseurs de Conflans.
In 1776 this and other volunteer "legions" had their mounted elements converted into 24 squadrons of Chasseurs a cheval, each of which was attached to one of the existing dragoon regiments of the Royal cavalry.
In 1779 these squadrons were amalgamated into six regiments, each of which was given a regional title (1st Chasseurs des Alpes, 2nd Chasseurs des Pyrenees, etc).
In 1788 six dragoon regiments were converted to Chasseurs a cheval and during the period of the Revolutionary Wars the number was again increased, to twenty-five. This second volume follows them as they brigade with the Hussars in all the great theatres of operation at the beginning of the Empire.Here we deal with the missions given over to the light cavalry before, during, and after the battle. As for the uniform part, the book shows how their uniform evolved from being a mere copy of the Hussars'to becoming with time totally specific to the Chasseur a Cheval Arm. The Authors:Ludovic LetrunJean-Marie Mongin.
Information
Format: Paperback / softback
Pages: 80 pages, Illustrated in colour throught
Publisher: Histoire & Collections
Publication Date: 15/01/2013
Category: Napoleonic Wars
ISBN: 9782352502395
Free Home Delivery
on all orders
Pick up orders
from local bookshops