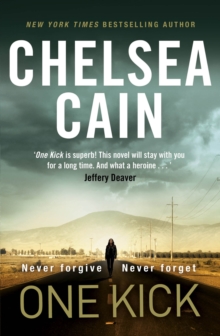 Description
Kick Lannigan, 21, is a survivor. Abducted at age six in broad daylight, the police, the public, perhaps even her family assumed the worst had occurred. And then Kathleen Lannigan was found, alive, six years later.
In the early months following her freedom, as Kick struggled with PTSD, her parents put her through a litany of therapies, but nothing helped until the detective who rescued her suggested Kick learn to fight.
Before she was thirteen, Kick learned marksmanship, martial arts, boxing, archery, and knife throwing.
She excelled at every one, vowing she would never be victimized again.
But when two children in the Portland area go missing in the same month, Kick goes into a tailspin.
Then an enigmatic man Bishop approaches her with a proposition: he is convinced Kick's experiences and expertise can be used to help rescue the abductees.
Little does Kick know the case will lead directly into her terrifying past...
Information
Format: Paperback
Pages: 400 pages
Publisher: Simon & Schuster Ltd
Publication Date: 14/08/2014
Category: Thriller / suspense
ISBN: 9781471130663
Other Formats
eAudiobook MP3 from £16.79
EPUB from £4.99
Free Home Delivery
on all orders
Pick up orders
from local bookshops
Reviews
Showing 1 - 1 of 1 reviews.
Review by shelleyraec
16/06/2015
One Kick is the start of a new action packed series for suspense/thriller writer Chelsea Cain who is best known for her popular Archie Sheridan and Gretchen Lowell series.When the FBI raided an isolated farmhouse they were shocked to discover twelve year old Kathleen Lannigan, abducted six years earlier from outside her home, who destroyed their case against her abusers with a push of a button. Ten years later, 'Kick' as she insists she be called, is still struggling with the legacy of fear, shame and emotional trauma inflicted by her captors, and is desperate to find a way to redeem herself. Despite mastering skills in martial arts and marksmanship, amongst other things, to ensure she will never again be a victim, Kick feels useless, until a stranger breaks into her apartment and asks for her help. Bishop is hunting the pedophiles behind the recent abduction of two children and believes she is his best chance at finding them. Kick can't refuse, but saving them may cost her everything.With plenty of tension, convincing emotion and harrowing scenes, One Kick is a page turning thriller from the first page. The plot is fairly simple, but holds together well, anchored by Cain's strong protagonist, Kick.Kick is a survivor, and to be admired for all she has endured and battled to overcome, but she is damaged. She is all but estranged from her family, resists authority and is obsessed with abduction cases, though at a loss as to how to make a difference. She has never fully resolved her relationship with her abductor, Mel, and is overly attached to her aging dog, Monster. The story places Kick in circumstances that challenge her psychologically, forcing her to confront her dark past and it is impossible not to feel for her and hope that she will triumph. My only niggle with her character is that much emphasis is placed on her finely honed physical skills but when she needs to use them, they all but fail her.Bishop is a fairly stereotypical character for the thriller genre – tough, enigmatic and ruggedly handsome, though not entirely infallible. His motivations for the hunt are revealed gradually, though his benefactor, who provides the money and resources needed to follow the clues from Seattle to San Diego, remains a shadowy figure.Kick's experiences as 'Beth' are never really articulated but what is implied is horribly confronting, and may be a trigger for some readers. Cain also exposes some of the sickening details of pedophile rings who rely on a network of safe houses, false identification and anonymous computer networks to procure and trade children while protecting their dirty secret. It makes for disturbing reading.One Kick is a solid thriller with a strong protagonist and a storyline that is both confronting and exciting. I'm eager to see how the series and its characters will develop.