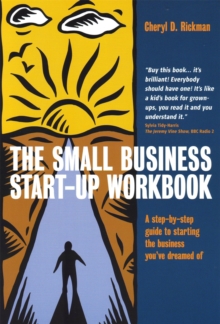 The Small Business Start-Up Workbook : A Step-by-step Guide to Starting the Business You've Dreamed of
Paperback / softback
Description
In this practical and comprehensive workbook, Cheryl Rickman, offers a modern approach to self-employment and business start-up.
Packed with real-life case studies and practical exercises, checklists and worksheets, it provides a step-by-step guide to researching and formulating your business ideas, planning the right marketing strategies, and managing a team that will drive your vision forward with you.
You'll discover what, with hindsight, well-known entrepreneurs would have done differently, what their biggest mistakes have been and what they've learnt: Dame Anita Roddick, Julie Meyer, Stelios Haji-Ioannou, Simon Woodroffe and others reveal their best and worst decisions and contribute their wisdom and tips for succeeding in business.
You'll learn how to: develop, research and plan "the idea"; design and create the right products and services; define and understand your customers and target audience; secure finance and manage cash flow and accounts; create a winning brand and marketing message; gain and retain customers; achieve competitive advantage; plan, create, launch and promote your website; and manage your business and time.
This fresh approach to small business start-up also includes information and recommendations on making your business ethical and socially responsible, along with exercises to help build self-confidence and visualize success. Contents: Introduction; 1. Where to Begin - What's the Big Idead; 2. What to Do and Sell - Opportunities, Products and Services; 3.
Who and Where? Researching Your Market, Target Audience and Opportunity; 4.
Who Are You? Defining Your Brand; 5. How to Plot Your Findings and Map Out Your Future; 6.
How Much? Figuring Out the Finance: Costs, Funding, Grants and Loans; 7.
How to Sell - Marketing and Selling Your Products and Services; 8.
How to Sell - The Importance of Good Customer Service; 9.
How to Behave - The Case for Ethical Business and Social Responsibility; 10.
Your Website - Planning and Creating a Website that Works; 11.
Your Website - Launching and Promoting; 12. How to Manage And Grow - Tips from the Top; 13. Lessons from Leaders in Business; 14. The Ultimate Business Start-Up Checklist; 15. Uaseful Resources for Small Business Start-Ups;
Information
Format: Paperback / softback
Pages: 288 pages
Publisher: Little, Brown Book Group
Publication Date: 27/05/2005
Category: Entrepreneurship
ISBN: 9781845280383
Free Home Delivery
on all orders
Pick up orders
from local bookshops
Also by Cheryl D. Rickman