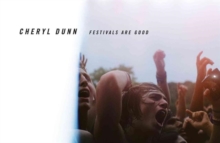 Festivals Are Good
Hardback
Description
Dancing to your favorite band in a sea of 100,000 people under the stars or beneath the clouds, on the grass or in the mud, is an experience like no other.
This is freedom: freedom to be moved by the energy of a mass gathering, freedom to dance without restraint, freedom to surrender yourself to the moment and go where that takes you.
New York-based documentary filmmaker and street photographer Cheryl Dunn has been shooting music festivals for over 20 years.
She shoots from the pit or from the first row for the biggest rock stars in the world, but she is also a fan.
The photographs celebrate those she has danced with: kids crammed front and center who saved their money for a year to be there, older people sitting on tricked-out lawn chairs, cross sections of nerds, jocks, babes, stoners and outcasts letting it all hang out in unabashed glory.
Information
Format: Hardback
Pages: 128 pages, Illustrated in colour and black and white throughout
Publisher: Damiani
Publication Date: 01/02/2016
Category: Photography & photographs
ISBN: 9788862084666