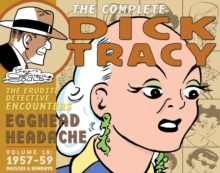 Complete Chester Gould's Dick Tracy Volume 18
Hardback
Description
The 1950s just about came to a close in Volume Eighteen as Chester Gouldintroduces one character after another whose crimes start off as relativelypetty, but who end up trapped in larger and more deadly conspiracies.
Newcharacters include the gamecock queen Miss Egghead, Cuban secret servicemanWunbrow, the tragic Headache, and bizarre Popsie and her mother.
Throw in awacko named Pantsy, a cross-country chase after a million dollars of hiddenheist loot, Tracy left for dead on a deserted island, a couple more million inslot machine coins, and a throwback to the 1940s in the Mole-lookalike namedRhodent, and it's clear that Chester Gould is definitely not resting onhis laurels.
Included are all strips from December 15, 1957 through July 11,1959.
Information
Format:Hardback
Pages:276 pages
Publisher:Idea & Design Works
Publication Date:12/05/2015
Category:
ISBN:9781631402418