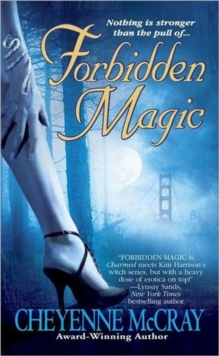 Forbidden Magic
Paperback
Description
D'Anu witch Silver Ashcroft knows she walks a perilous line by practicing gray magic.
But it's the only way to protect herself from the evil that surrounds her.
After the horrors she has witnessed, Silver thinks she is ready for anything...until the most intensely arousing being she has ever encountered swiftly - and sensuously - proves her wrong...Hawk is a Tuatha D'Danann warrior - powerful beings descended from the Fae. And for him duty has always come before pleasure. Then, clad only in moonlight, Silver Ashcroft welcomes him to her city of San Francisco and makes his blood sing with a passion beyond compare.
She is the embodiment of fantasies he never knew he had, but the terrifying reality of his mission lurks in every shadow...Only the strongest will survive the upcoming battle, and the forces of darkness are more powerful than ever.
Now, warrior and witch must trust in their hearts above all else - for to claim victory, they first must claim each other...
Information
Format: Paperback
Pages: 416 pages
Publisher: St Martin's Press
Publication Date: 27/01/2006
Category: Romance
ISBN: 9780312937614
Free Home Delivery
on all orders
Pick up orders
from local bookshops
Reviews
Showing 1 - 5 of 7 reviews.
Previous | Next
Review by wyvernfriend
16/06/2015
readable but not earthshatteringly good in any way. Fun paranormal romp with witches, demons, fae and war. It's a paranormal romance that ticks all the boxes. Witch being seduced by dark magic, checkIrish Accented otherworldly male, checkWitches who refuse to fight because it's against their principles, even though they could die horribly, checkSupernatural bad guys, checkMany sex scenes, check.
Review by magoo1516
16/06/2015
good plot but lots of gratuitous, graphic sex scenes. If she'd just cut out the s&m I would have enjoyed the book more. because of the soft core porn this is not a book I'd recommend or pass on to my friends.
Review by samantha
16/06/2015
This really wasn't very good at all. It's mediocre porn thinly veiled with a storyline and characters. Not much in the way of convincing world-building. Not throw-the-book-across-the-room bad, just not particularly interesting.
Review by CozyLover
16/06/2015
A quick read, interesting but nothing great.
Review by ladycato
16/06/2015
To put it plainly: Cheyenne McCray is an excellent writer with fantastic descriptions and solid pacing, but this is not my sort of book at all.Silver is a D'Anu witch in San Francisco. When a local group of warlocks starts pulling demons through to Earth, other Fae creatures get involved - including the sexy Tuatha D'Danann warrior Hawk. The cover blurbs mention the word "erotic" a lot, and it certainly does have lots of love scenes in various locales. Those weren't really the problem. Silver and Hawk had nice chemistry; some of the anatomical terms and profanity jolted me, but I got to a point where I just skimmed over the words as much as possible. The problem I had was that there were several scenes involving the demons having kinky orgies amongst themselves, and that just totally turned me off. I skipped over the last two such scenes just because I knew if I actually read them I might not want to finish the book.So no, not my sort of thing. I liked the paranormal plot, the suspense, and the characters, but I'd rather just stay with the good guys doing good stuff.
Also by Cheyenne McCray