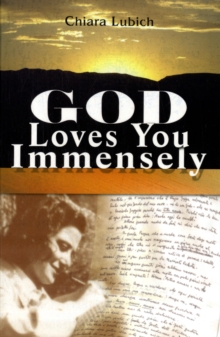 God Loves You Immensely
Paperback
Description
These pages are good news in every sense of the words, from forgetting the worries of the day to the certainty that God loves each and every one and demonstrated this by giving his life.
For every sentence in this book you can find a corresponding passage in the Bible, the authoritative source of all Chiara's thinking.
Collections of quotations of famous people are in circulation everywhere.
Often these brief sentences offer rich aphorisms that are able to strike at the heart of many issues.
Chiara Lubich's words had never been put together in such a format, a gap that this small book seeks to overcome.
These helpful sentences express what we ourselves sometimes think and experience but can never quite seem to put into words so well.
They can help us to live what we feel inside to be our true destiny.
Information
Format: Paperback
Pages: 71 pages
Publisher: New City Press
Publication Date: 20/12/2009
Category: Christian prayer
ISBN: 9781565483392