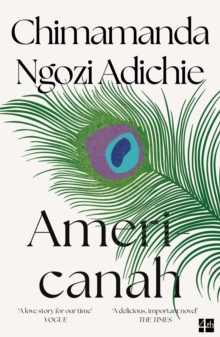 Description
SHORTLISTED FOR THE BAILEY'S WOMEN'S PRIZE FOR FICTION`A delicious, important novel' The Times`Alert, alive and gripping' Independent`Some novels tell a great story and others make you change the way you look at the world.
Americanah does both.' Guardian
Information
Format: Paperback
Pages: 400 pages
Publisher: HarperCollins Publishers
Publication Date: 24/02/2014
ISBN: 9780007356348
Other Formats
EPUB from £4.99
Paperback from £9.19
CD-Audio from £23.09
Free Home Delivery
on all orders
Pick up orders
from local bookshops
Reviews
Showing 1 - 5 of 6 reviews.
Previous | Next
Review by rainpebble
16/06/2015
Americanah by Chimamanda Ngozi Adichie; (2*)I won't even attempt a proper review on Americanah because there are so many lovely ones on the book page. I will say that I am a minority in that I didn't care for this book. I loved Half of a Yellow Sun & Purple Hibiscus by her but this one did nothing for me. I found myself even dreading to pick it up and was so disappointed by that.First I wanted to love it. Then I wanted to like it and in the end I just felt sad that I had failed this writer of two of the most beautiful books I've read in recent years and spent days attempting to read a book that I found I couldn't like. The characters did not draw me in. I was not fascinated by their circumstances. I could not even find the American/Nigerian comparisons interesting. It was just a big flop for me & I feel guilty about that.Perhaps my head has been immersed in too many Great War stories & couldn't pull itself from them. IDK. I do know that I will find something to read today that will carry me away.I am sorry Chimamanda Ngozi Adichie, for I have loved your writing and you have been an inspiration to me.
Review by flydodofly
16/06/2015
Modern, bold and important, the book explores many topics on many levels, some very bog, others smaller, but perhpas a little less would have spoken more clearly. I miss the magical aspect I like to see in a book, this is too much of a documentary, an observation. Life is not simple at either end/continent - Africa and America are both shown in disillusioned stark headlights of modern times. On the other hand - this is a very important book and I enjoy that so many of us are reading books from an African author, who is also a woman. This will help us all understand life and the world better.
Review by sberson
16/06/2015
This is a thoroughly enjoyable book, and one with a perspective that you will be hard pressed to find elsewhere. Well worth reading.
Review by peterveen
16/06/2015
A trenchant analysis of race and identity illustrated through the lives of a a group Nigerian youths and their experiences in white,brown and black America. Brilliantly written and for the first part lightly interweaving the racial issues with personal experiences. Unfortunately in the second part of the novel the racial theme gets more and more heavy handed, essayistic and to this reader rather boring. In the final part the story setps up the pace again . All in all a brilliant book and one can always skip the boring parts.
Review by AdonisGuilfoyle
16/06/2015
Slow to get into, and even slower to finish, <i>Americanah</i> is a long but involving novel about two Nigerian high school sweethearts, Ifemelu and Obinze, who go their separate ways - she to America, he to England - but eventually reunite as older, world-wiser lovers. With a lot of back and forth, between the two main characters and three countries, the story seems more complicated than it actually is. A lot happens to Ifemelu, who cuts herself off from Obinze while in America and starts to write a blog about race relations, and Obinze's sojourn in the UK is short and far from sweet, but basically, the character's lives are a platform for the author's social commentary, which is occasionally funny but mostly painfully accurate. An eye-opener for readers who have never been judged by ethnic background, or had to fight to receive a good education or find employment.
Also by Chimamanda Ngozi Adichie | View all