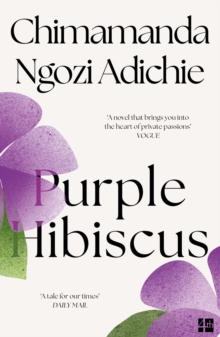 Purple Hibiscus
Paperback
Description
The limits of fifteen-year-old Kambili's world are defined by the high walls of her family estate and the dictates of her fanatically religious father.
Her life is regulated by schedules: prayer, sleep, study, prayer.When Nigeria is shaken by a military coup, Kambili's father, involved mysteriously in the political crisis, sends her to live with her aunt.
In this house, noisy and full of laughter, she discovers life and love - and a terrible, bruising secret deep within her family.This extraordinary debut novel from Chimamanda Ngozi Adichie, author of `Half of a Yellow Sun', is about the blurred lines between the old gods and the new, childhood and adulthood, love and hatred - the grey spaces in which truths are revealed and real life is lived.
Information
Format: Paperback
Pages: 336 pages
Publisher: HarperCollins Publishers
Publication Date: 07/02/2005
ISBN: 9780007189885
Other Formats
Hardback from £8.50
EPUB from £6.24
Paperback from £9.19
Free Home Delivery
on all orders
Pick up orders
from local bookshops
Reviews
Showing 1 - 5 of 17 reviews.
Previous | Next
Review by celticstar
16/06/2015
This is a very thought provoking read. Narrated by Kambili, who is undergoing a huge transformation as she breaks away from her abusive, puritanical father, a wealthy philanthropist in the community but a violent hypocrit at home. Introverted and repressed, Kambili learns to express herself in the company of her poorer but more open and spirited cousins, and her inspiring aunt, a University lecturer.
Review by sleepydumpling
16/06/2015
Difficult to read as a survivor of domestic abuse myself, but beautifully written and a story that captures the reader. The central character of Kambili is one that I could really identify with, and she engaged me from the first paragraph.An excellent insight into Nigeria too.
Review by FionaCat
16/06/2015
This was a novel that I could not put down. Set in Nigeria, it is the story of a 15-year-old girl, Kambili, and her older brother Jaja. Their wealthy, influential, and devoutly Catholic father is incredibly strict. He schedules every minute of their days and punishes them severely for even minor offenses.When Kambili and Jaja go to stay with their Aunt Ifeoma, they are amazed at the freedom her children enjoy and get to spend some time with their grandfather, whom their father had forbidden them to speak to because he is a "heathen."The plot comes to a head when Aunt Ifeoma loses her job at the university and makes plans to move to America, leaving Kambili and Jaja dreading the return home to Papa's strict rule.I won't tell you what happens, but I will say that this book lets you experience life in Nigeria, a country where government coups are commonplace, supplies of fuel and electricity can be cut off at any time, and sometimes the only way through a police roadblock is to bribe the officers. Their way of life may be foreign to most of us, but Kambili, Jaja, Aunt Ifeoma and the rest of the characters are not.
Review by siew
16/06/2015
Purple Hibiscus, is the first novel by a masterly author. It is a nuanced depiction of family life in a fanatically religious household, wielded over by its wealthy, indomitably violent father, during the time of a Nigerian coup. What complicates the picture, and adds to the pathos, is the huge admiration that the community at large has for Eugene, the father - he funds activism against oppression, feeds his local community upon Christmas largesse, unfailingly attends Church and consistently donates to charities and his Church group - all whilst assuming a modest air.Meanwhile, his daughter Kambili, who narrates, her brother Jaja and their Mama, are the silent victims of a constant barrage of bodily and spiritual assaults, as a result of real or imagined sins, no matter how slight. The household tension is broken, however, during a Christmas visit to their local village, where Kambili and Jaja are reacquainted with their Aunty Ifeoma and her vibrant, outspoken children, Amaka, Obiora and Chima. A consequential couple of visits to their cousin's cramped abode later, and their transformation from religious oppression begins to manifest itself. This is, of course, much to the horror of Eugene, and the two siblings must negotiate their enlightenment with care, as their world disintegrates around them.The novel is composed of three temporal parts - Palm Sunday, Before Palm Sunday, and after Palm Sunday, in that order. The effect of this is a dramatic depiction of Eugene's violence, coupled with evidence of a slow unravelling of the family, before we go back in time to witness the transformation of the siblings, and the consequences of Palm Sunday's events.The text is beautifully written, consistently supplementing the narrator's growth from a frightened, naive girl, into a young lady with unleashed feelings of love, friendship and laughter, and the building of strength of character for the road ahead. It also explores the very painful aspect of domestic violence - how you may still love the hands that cause the hurt, and how the one doing the hurting is not always so evil.Overall, it is an easy read, despite the difficult themes. The characters are well-fleshed out, and in spite of the unhappiness, there is a bit of joy to be found that saves the novel from being just another depressing post-colonial novel. Adichie is further careful not to indict Christianity in the typical binaristic manner - while it is the source of Eugene's violent fervour, it is also redemptive for others, and brings music into the lives of Kambili and Jaja. The source of their pain or joy, therefore, is not directly attributed to religion itself, but through the way in which people around them choose to use it.
Review by cestovatela
16/06/2015
According to the jacket copy, "15-year-old Kambili lives in fear of her father, a charismatic yet violent Catholic patriarch, who, although generous and well-respected in the community, is repressive and fanatically religious at home. When a military coup strikes, a visit to her Aunt Ifeoma's house changes everything." The trouble is, these two sentences describe the entire plot of the book. Over and over again, it shows us that Kambili's father is a morally ambiguous and sometimes cruel man and that finding a mentor in her kind, strong aunt changes Kambili and her brother's fanatical devotion to him. I read most of this book thinking it was good but wondering where it was leading. Unfortunately, it was headed only to an abrupt and overly heavy-ending that didn't seem to tie in with the character development earlier in the novel. I think teenagers might enjoy this book more than adults.
Also by Chimamanda Ngozi Adichie | View all