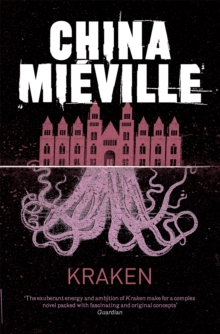 Description
Deep in the research wing of the Natural History Museum is a prize specimen, something that comes along much less often than once in a lifetime: a perfect, and perfectly preserved, giant squid.
But what does it mean when the creature suddenly and impossibly disappears?
For curator Billy Harrow it's the start of a headlong pitch into a London of warring cults, surreal magic, apostates and assassins.
It might just be that the creature he's been preserving is more than a biological rarity: there are those who are sure it's a god - A god that someone is hoping will end the world.
Information
Format: Paperback
Pages: 400 pages
Publisher: Pan Macmillan
Publication Date: 01/09/2006
ISBN: 9780330492324
Free Home Delivery
on all orders
Pick up orders
from local bookshops
Reviews
Showing 1 - 5 of 6 reviews.
Previous | Next
Review by gregandlarry
16/06/2015
An amazing story. You can feel London's cobbles when you read this.
Review by Crayne
16/06/2015
Kraken is a bit of a mixed bag, really. It's Gaiman, it's Powers, it's British, it's American, it's overflowing with cool concepts and lacking in coherent world building. It's also really enjoyable in the same way a well-made B-movie is enjoyable. I couldn't stand Miéville's Perdido Street Station (and yes, I realize I am apparently the sole member of the human race to feel that way), but I thoroughly enjoyed Kraken. His ability to turn almost any mundane concept into something occult runs wild through its pages and you find yourself hoping you'll get to see some more. And that's the one thing where the novel disappoints: it doesn't show you more. Gunfarmers, Londonmancers, Memory Angels, Krakenists, Monsterherds, fleshcrafted appliances, a house that serves as an embassy for the sea as an entity in its own right...they all hint at superb, tasty urban fantastical goodness, but never become more than that hint. I'd like to see Miéville expand this universe, flesh out the skeletons he's constructed in Kraken. I want more...
Review by cuffs
16/06/2015
I really like China Miévilles earlier books but not so much this one. The story is very much Neil Gaiman Neverwhere with a sprinkling of Charles Stross Laundry series. Not bad, but not with that sparkling originality Miéville usually exhibit. The prose sometimes feels pointlessly convoluted, at least to someone where english is not a first language.I enjoyed the book so by all means read it. Just do not expect as much of this book as from (for example) Perdido Street Station.
Review by isabelx
16/06/2015
Bureaucracies turf-war. The FSRC were the only officers in the Met who were anything other than blitheringly inadequate to deal with the eldritch nonsense of knackery. They were the state's witches and hammers of witches. But their remit was a historical quirk. There were no Wizardry Squads in the UK Police. No SO21 to police Crimes of Magic. The Flying Squad did not. There was only the FSRC, and technically they were not concerned with the powers of ley lines, charmed words, invoked entities, et cetera-they were a cult squad, specifically. In practice of course it was staffed by and kept watch on all those with questionable talents. FSRC computers were loaded with occult hexware and abgrades (Geas 2.0, iScry). But the unit was obliged to maintain appearances by describing all its work in terms of the policing of religion. They had to take care, if they concluded that it was purely secular abcriminality behind the Architeuthis disappearance, to stress what links they could with London's heresiarchs. Otherwise they would lose jurisdiction. Without cult-games at the heart of the squidnapping, it would be handed over to some brusque unsubtle unit-Serious Crime, Organised Crime. Antiquities. It is only when the giant squid and its nine-metre tank go missing from the Darwin Centre at the Natural History Museum, that curator Billy Harrow learns of the existence of London's magical underworld from officers of the FSRC (the Met's Fundementalist and Sect-Related Crime Unit). But once he knows about it, he is thrown in at the deep end, and has to confront cultists and Londonmancers, cursed gang bosses and immortal assassins in his search to find the squid and prevent the coming apocalypse. "Kraken" takes place in the present day, with Internet buzzwords like Meme and Google-fu thrown in to prove it, but it is set in a magical underworld that most of London's inhabitants never see. The police, at least, are well aware of it and the Met even has a special department to deal with magical matters, although most people are under the impression that it is a cult investigation unit. Things I liked were the idea of the sea having an embassy in London, because such a low-lying city does need to keep in the sea's good books, and what Billy said about the squid to foil the baddie's plans was very clever. I also found the SV Brood chanting "Red thoughts, white teeth!" amusing, but then I am a huge Saki fan. On the other hand, the magical knacks seemed rather random and a little too convenient (invisible spirit pigs!), while the police's plan to fake two apocalypses on the same day didn't really make much sense and overall I don't think that "Kraken" hangs together as well as some other stories of magical London that I have read.
Review by Schizophrenia86
16/06/2015
I didn't expect too much from this book, just a neat little fantasy-story in a contemporary urban environment. At the beginning it made me think of Wolfgang Hohlbein's "Azrael" (being the only other "Urban Fantasy" book I read so far), but "Kraken" beats it by lenghts.Instead of just some quite conventional fantasy elements settled in a modern day city "Kraken" creates a London full of ideas both pretty new and pretty sick (in a good way). Angels of memory coming alive from all the collected memory in museums, Gunfarmers "planting" bullets into their victims and growing more ferocious weapons out of them, and a magician trying to imitate Star Trek and thereby killing himself many times without realizing it by beaming himself are just some of Kraken's innovative features. And yes, it gradually becomes a pretty epic story. I mean, it has apocalypses in it. In plural. Simultaneously. Too bad I didn't really buy the ending, which ruins a possible 5 star rating.