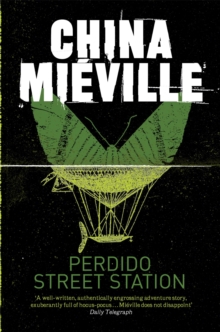 Perdido Street Station
Paperback
Description
The metropolis of New Crobuzon sprawls at the centre of its own bewildering world.
Humans and mutants and arcane races throng the gloom beneath its chimneys, where the rivers are sluggish with unnatural effluent, and factories and foundries pound into the night.
For more than a thousand years, the parliament and its brutal militia have ruled over a vast array of workers and artists, spies, magicians, junkies and whores.
Now a stranger has come, with a pocketful of gold and an impossible demand, and inadvertently something unthinkable is released.
Soon the city is gripped by an alien terror - and the fate of millions depends on a clutch of outcasts on the run from lawmakers and crime-lords alike.
The urban nightscape becomes a hunting ground as battles rage in the shadows of bizarre buildings. And a reckoning is due at the city's heart, in the vast edifice of Perdido Street Station.
It is too late to escape. 'A work of exhaustive inventiveness ...superlative fantasy' Time Out 'A well-written, authentically engrossing adventure story, exuberantly full of hocus-pocus ...Mieville does not disappoint' Daily Telegraph
Information
Format: Paperback
Pages: 880 pages, map
Publisher: Pan Macmillan
Publication Date: 01/05/2011
Category: Fantasy
ISBN: 9780330534239
Other Formats
EPUB from £7.19
PDF from £7.19
Free Home Delivery
on all orders
Pick up orders
from local bookshops
Reviews
Showing 1 - 2 of 2 reviews.
Review by JanetinLondon
16/06/2015
Despite a slow start, once the main story got going this was a great book. The plot is basically a simple, classic one – in a harsh, oppressed environment, Isaac is a rogue scientist, taking on private projects, not always legal. A client comes with an unusual, probably impossible request, and Isaac's research inadvertently unleashes a terrible threat. Isaac and others try to figure out what's happening, and how to save the city, and there are a variety of events and adventures along the way.The themes are also classic – the potential but also the risks of advancing technology, the battle of good v. evil, bravery and loyalty, but also betrayal (once or twice I thought I had strayed into a George R.R. Martin book!). Yet there were also two themes which I see as more modern (and, I think, perhaps primarily urban) – the connectivity of everything, physically and psychically, and the increasing need and ability of humans to utilize this, and the way in which different cultures share space and time, specifically crowded cities, interacting yet not really integrating, with some shared values yet very alien to each other in other ways. The characters, of course, are not classic ones. Mieville has created a range of species, some more human-like and some less, and he uses their different characteristics to support the story in some unique ways. Isaac is a great character, as is Yag, his client, and there are many other interesting characters, some of which drive the main plot and others of which are more minor. The city itself is also a key character, and the descriptions of various buildings and parts of town are some of the most enjoyable sections of the book. And I love that there is a map at the front. Occasionally, though, Mieville just gets carried away with his love for his creations, and there are various sidetracks and subplots and even quite major characters which I felt didn't enhance the story in any way and just made me feel the book was too long.On balance, I am giving this book 4 stars, because the story is great, there are some excellent characters, and the writing is very good most of the time, but it <i>is</i> too long, and some of it <i>is</i> too self-indulgent. Having said that, I will certainly be reading more of Mieville's books next year.
Review by harmen
16/06/2015
A nice bunch of multidimensional steampunk.