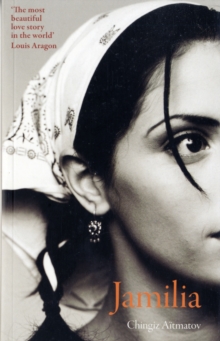 Description
Jamilia's husband is off fighting at the front. She spends her days hauling sacks of grain from the threshing floor to the train station in their small village in the Caucasus, accompanied by Seit, her young brother-in-law, and Daniyar, a sullen newcomer to the village who has been wounded on the battlefield.
Seit observes the beautiful, spirited Jamilia spurn men's advances, and wince at the dispassionate letters she receives from her husband.
Meanwhile, undeterred by Jamilia's teasing, Daniyar sings as they return each evening from the fields.
Soon Jamilia is in love, and she and Daniyar elope just as her husband returns.
Information
Format: Paperback
Pages: 96 pages
Publisher: Telegram Books
Publication Date: 09/07/2007
ISBN: 9781846590320
Free Home Delivery
on all orders
Pick up orders
from local bookshops
Reviews
Showing 1 - 5 of 9 reviews.
Previous | Next
Review by TadAD
16/06/2015
Living in Kyrgyzstan during World War II, Seit is a teenage boy experiencing his first, unrequited crush on his sister-in-law, Jamilia. Jamilia is married to Sadyk, whose tepid letters from the war are sent to his parents and mention her only in passing in the postscripts. The two of them get thrown together with Daniyal, a soldier invalided back from the front, whose sullen demeanor slowly thaws to reveal a poet's soul. Aïmatov sews these elements together into a love story that feels like a folk tale handed down through the generation. Reading about the author, it seems the folklore tone is characteristic of his work as he aimed to recreate the oral tradition of his nomadic people. It gives this story a charming air that I loved.
Review by MusicMom41
16/06/2015
A lovely, almost poetic, novella that talks of art, music and love in addition to hard labor in the midst of difficult times in Russia during WWI.
Review by akeela
16/06/2015
This beautiful little gem of a book is set on the Kyrgzstan steppe during the war. The narrator is 15-year-old Seit who engages in arduous toil alongside the women left behind in the village, while the men are away at war. As Seit spends his days working with his young, beautiful and industrious <i>jenei</i> (sister-in-law), he comes to adore the spirited Jamilia, who loves to sing.Her husband, Sadyk, is away and occasionally writes home but, as custom demands, rarely even mentions Jamilia in his letters. Meanwhile, her lively and forthright personality attracts a lot of attention from the young men around.But there is one man, Daniyar, who remains aloof. Injured at war, he is now in their midst. But he is the strong and silent type. As time passes, Seit sees Jamilia draw Daniyar out of his shell and observes a beautiful – but forbidden – relationship evolve between the two. The writing is charming with some outstanding bits. Though it was written in 1957, the book was only translated into English, in 2007, by James Riordan who must be commended for his splendid work.
Review by Di_M
16/06/2015
Jamilia is a beautiful and charming story told from an artist's perspective. It's a heart warming and poetic story about love and how it creeps up on you unexpectedly. Jamilia is the type of story you can read many times over. I highly recommend it.
Review by worrellw
16/06/2015
This was a wonderfully moving love story that packed a punch for such a small book. It felt like an old folk tale.
Also by Chingiz Aitmatov