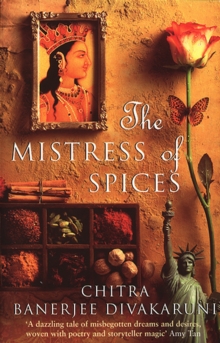 The Mistress Of Spices
Paperback
Description
Tilo, an immigrant from India, runs an Indian spice shop in Oakland, California.
While she dispenses the classic ingredients for curries and kormas, she also helps her customers to gain a more precious commodity: whatever they most desire.
For Tilo is a Mistress of Spices, a priestess of the secret, magical powers of spices.
Through those who visit and revisit her shop - Ahuja's wife, caught in an unhappy, abusive marriage; Jagjit, the victim of racist attacks at school; the noisy bougainvillaea girls, rejecting the strict upbringing of their tradition-bound Indian parents; Haroun who drives a taxi and dreams the American dream - we get a glimpse into the life of the local Indian expatriate community.
To each Tilo dispenses wisdom and the appropriate spice: coriander for sight; turmeric to erase wrinkles; cinnamon for finding friends; fenugreek to make a rejected wife desirable again; chillies for the cleansing of evil.
But when a lonely American comes into the store, a troubled Tilo cannot find the right spice, for he arouses in her a forbidden desire, and following her own desires will destroy her magical powers. Compelling and lyrical, full of heady scents and with more than a touch of humour, this novel explores the clash between East and West even as it unveils the universal mysteries of the human heart.
Information
Format: Paperback
Pages: 336 pages
Publisher: Transworld Publishers Ltd
Publication Date: 05/02/1998
ISBN: 9780552996709
Free Home Delivery
on all orders
Pick up orders
from local bookshops
Reviews
Showing 1 - 2 of 2 reviews.
Review by isabelx
16/06/2015
Hot prick of ginger, you were the last taste on my tongue when I stepped into the heart of Shampati's fire. Flametongues licked like a dream at my melting skin, flamefingers pushed down my eyelids.And when I woke in America on a bed of ash, an age later or was it only a breath, the store already hardening its protective shell around me, the spices on their shelves meticulous and waiting, you were the first taste, ginger, gritty and golden in my throat.Tilo, trained in the magic of spices on an island far away, never leaves her shop in Oakland, California, which is an oasis of Indian tastes, smells and magic in the wasteland of America. The Indian community flock to her shop, to buy cooking ingredients and assuage homesickness, but also for the help that she dispenses in the form of powerful healing spices. For some reason I had been expecting a story based in reality, so it was a surprise just how full of magic it was. Thank you for organising the ray, Beebarf. I think it's a great choice of book for a ray, being a wonderful book by an author I hadn't heard of. I hope everyone else enjoys it as much as I did!
Review by Evalangui
16/06/2015
So... I was reading this perfectly awesome book with lots of meta commentary and then I got hit by a big dose of misogyny. Which was later proven to be untrue in the case of the heroine, although I'm not sure if the implication is that it's untrue in other cases (that women will fake diseases/set fire to things to get attention). The narrator, who is a modern man, normally tells you what he means so I'm waiting for him to clarify. Ok, finished. Misogyny not too bad for a book published when this was, like, to normal levels? I was terribly bothered by it later on because the narrator is a Brian Kinney type of asshole, he insists on telling the truth about everything and everyone and that results in a lot of veiled insults that make you laugh coz they are pretty true. I do wish the heroine had been more of a person and less of a 'mystery' (as a teacher pointed out, the mystery of Sarah was that there was no mystery). Her actions remain unexplained even when she gives an explanation and if that flew with any men because they could not understand women in their lives, it certainly doesn't with me.