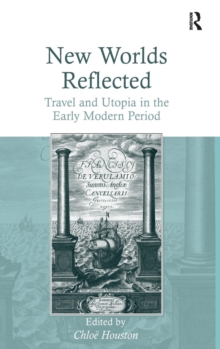 New Worlds Reflected : Travel and Utopia in the Early Modern Period
Hardback
Description
Utopias have long interested scholars of the intellectual and literary history of the early modern period.
From the time of Thomas More's Utopia (1516), fictional utopias were indebted to contemporary travel narratives, with which they shared interests in physical and metaphorical journeys, processes of exploration and discovery, encounters with new peoples, and exchange between cultures.
Travel writers, too, turned to utopian discourses to describe the new worlds and societies they encountered.
Both utopia and travel writing came to involve a process of reflection upon their authors' societies and cultures, as well as representations of new and different worlds. As awareness of early modern encounters with new worlds moves beyond the Atlantic World to consider exploration and travel, piracy and cultural exchange throughout the globe, an assessment of the mutual indebtedness of these genres, as well as an introduction to their development, is needed.
New Worlds Reflected provides a significant contribution both to the history of utopian literature and travel, and to the wider cultural and intellectual history of the time, assembling original essays from scholars interested in representations of the globe and new and ideal worlds in the period from the sixteenth to eighteenth centuries, and in the imaginative reciprocal responsiveness of utopian and travel writing. Together these essays underline the mutual indebtedness of travel and utopia in the early modern period, and highlight the rich variety of ways in which writers made use of the prospect of new and ideal worlds.
New Worlds Reflected showcases new work in the fields of early modern utopian and global studies and will appeal to all scholars interested in such questions.