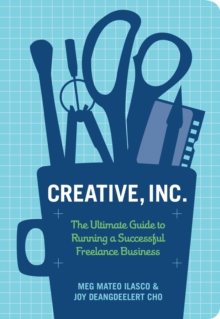 Description
SALES HANDLE: Taking the Leap (44,157 gross) meets Craft, Inc. (27,380 gross) in this guide to turning a creative talent into a profitable business.
Creative, Inc. has even broader appeal than Craft, Inc. with terrific info for all sorts of creative types, not just crafters.
DISTINCTIVE: The unique marriage of business plus creative gives this guide a spin that readers won't find in other business books.
Illustrated by Nantaka Joy of Oh Joy! and written by Meg Mateo IIasco, successful freelance designer and author, this book not only talks the talk, it walks the walk!
EXISTING TREND: The US Small Business Administration estimates that 50 percent of small businesses fail within their first five years.
Lack of planning can derail success. Creative, Inc. helps freelancers avoid this pitfall. In these tough economic times, more and more people are choosing - or being forced - to turn their creative passions into businesses, as discussed in the May 2009 New York Times article, Tough Times loosen Creativity.
Creative, Inc. is the perfect resource for making that transition. CONSUMER: This book is perfect for creative types ages 20 - 45 who are part of the 9.5% of unemployed Americans or are sick of the daily grind and want to start a freelance business using their creative talent. VALUE: Packed with real-life advice from freelance superstars who have excelled in their industries, as well as professional accountants, agents, and more, this book provides all the knowledge you would get from a business seminar or retreat - for just $16.95. NOTABLE AUTHORS: Meg Mateo IIasco has a dedicated following as does Nantaka Joy.
They will get big exposure on the blogosphere. (See author bios). Blurbs from Grace Bonney (D*S) and Shana Faust (Martha Stewart stylist).
RELEVANT SALES INFO: We've sold 27,380 copies of Craft, Inc. since July 2007 and gone back for three reprints. It's #48 on Bookscan's list of craft bestsellers. The Craft, Inc. Business Planner has sold nearly 10,000 copies since September 2009.
Information
Format: Paperback
Pages: 184 pages, col. Illustrations
Publisher: Chronicle Books
Publication Date: 28/07/2010
Category: General arts
ISBN: 9780811871617
Free Home Delivery
on all orders
Pick up orders
from local bookshops
Reviews
Showing 1 - 5 of 7 reviews.
Previous | Next
Review by LauraBrook
16/06/2015
This book couldn't have come into my life at a better time. I had been thinking about doing some freelance writing and was wondering where to start. I googled "freelance writing" and got so many results I was overwhelmed. The very next day, LT notified me that I won Creative, Inc for review! Rather than a book that you read in a linear fashion, cover-to-cover, this timely resource is something to be dipped into over time. I appreciate all of the step-by-step checklists, sample invoices, how to know when to get a partner, hire an agent, offer an internship, or, quit. The profiles of real-life successful freelancers are extremely helpful too – they've been there and done that!I'm keeping this book close at hand, not shelved somewhere hidden, so I can keep flipping open to passages when I'm feeling the "freelancing need", so to speak. After reading Creative, Inc, I realize that I'm not quite ready to start up my own business, but I've learned so much about what to do (and not to do) that I'm just filing things away, waiting until the time is right.Thank you, Meg Mateo Ilasco and Joy Deangdeelert Cho, for making such a great freelancing resource!
Review by anysia
16/06/2015
This is a very accessible book on running a freelance business for creatives. If you're a student, it gives you the practical information that you need to start out and deal with clients (or, really, for anyone starting out). I do some freelancing work but this year I would like to start selling some of my jewelry so I am going to take a look at this book's sibling, Craft, Inc. since this book was so well written and useful.
Review by leadmomma
16/06/2015
This book is a terrific read for ANYONE interested in getting a freelance business started. While it's geared towards people heading into a creative arena, I shared many pieces of information with a mechanic starting his own business and he found it was helpful too! Overall, it the book was matter-a-fact (you have to plan, expect to work hard and may have some set backs) while being very optimistic too. The book helps to make something that seems like an impossible task more manageable by sharing the experiences and advice from other people who are successful freelancers.
Review by sturlington
16/06/2015
I received this book through the Early Reviewers program. It is a how-to guide for starting a freelance business in a creative field, such as design or writing. First, the book is very attractive. It reminds me of a Moleskine notebook, with heavy paper and a stiff binding, and it is printed in different colors, which makes it fun to riffle through. You could even take notes in it if you wanted. The chapters cover all the bases of starting a freelance business, although not in a lot of depth. I particularly liked the interviews with different kinds of freelancers, which provide a real-world view of the industry, and the example forms, such as the estimate and invoice forms. Although I didn't read this cover to cover -- it's not that kind of book -- it seems like a useful reference that I will want to keep on my shelf for a long time.
Review by melydia
16/06/2015
I only got about halfway through this book, but not because it's bad - it's just not relevant to my life. I'm sure the freelancing advice is excellent, but most of the interviews are with photographers, graphic designers, and illustrators, fields I know (and care) next to nothing about. Don't get me wrong: the writing is friendly and the content is organized well. I just don't particularly enjoy reading books about business management, even those tailored to artsy people. Simply put, I am not a member of this book's target audience.