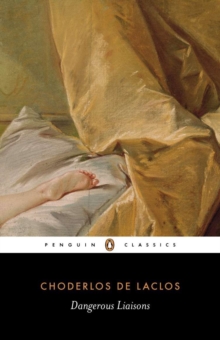 Dangerous Liaisons
Paperback
Description
Published in 1782, just years before the French Revolution, Les Liaisons Dangereuses is a disturbing and ultimately damning portrayal of a decadent society.
At its centre are two aristocrats, former lovers, who embark on a sophisticated game of seduction and manipulation to bring amusement to their jaded existences.
While the Marquise de Merteuil challenges the Vicomte de Valmont to seduce an innocent convent girl, the Vicomte is also occupied with the conquest of a virtuous married woman.
But as their intrigues become more duplicitous and they find their human pawns responding in ways they could not have predicted, the consequences prove to be more serious, and deadly, than Merteuil and Valmont could have guessed.
Information
Format: Paperback
Pages: 448 pages
Publisher: Penguin Books Ltd
Publication Date: 22/02/2007
Category: Classic fiction (pre c 1945)
ISBN: 9780140449570
Other Formats
EPUB from £3.99
eAudiobook MP3 from £9.79
Free Home Delivery
on all orders
Pick up orders
from local bookshops
Reviews
Showing 1 - 5 of 6 reviews.
Previous | Next
Review by Cait86
16/06/2015
Dangerous Liaisons is another book on the 1001 list, and one that rightfully deserves to be there, IMHO. It is an epistolary novel (a novel composed all of letters), which is one of my favourite forms (Austen's Lady Susan, Shelley's Frankenstein). Written in the late 1700s, Dangerous Liaisons is the correspondance of a group of French aristocrats who have an awful lot of time on their hands. What they spend their time doing is surprisingly interesting.The plot has two major storylines:1. The Vicomte de Valmont, a notorious womanizer, has set his sights on the virtuous Madame de Tourvel, a married woman known for her good character. Valmont's plan is to seduce Tourvel and then ruin her reputation. Why? Because it's fun.2. The Marquise de Merteuil, Valmont's ex-lover and main correspondant, as well as fellow evil-doer, sets her sights on young Cecile Volanges, a fifteen year old girl who arranged marriage to Gercourt is impending. Gercourt used to be the lover of Merteuil, but he left her for another woman. Thus, Merteuil plans to ruin Cecile, and thus embarrass Gercourt.Add to this Danceny, the man Cecile really loves; Cecile's overbearing mother; and Valmont's well-meaning aunt, and you have a cast of characters who just might deserve the fate Valmont and Merteuil hope to bring to fruition.Of course, complications arise, conquests are gained, and - shock - someone might actually show some real emotions!Dangerous Liaisons was quite the ride. If you enjoy Classic Literature, give this one a go. I was surprised at how scandalous it was, and enjoyed it for every juicy moment.
Review by Bridget770
16/06/2015
I appreciate the literary significance of this epistolary novel, and I'm glad I finished it, but it was a struggle. The first 2 parts of the book I found to be boring, but I enjoyed parts 3 and 4. These aristocrat characters live in France right before the revolution. They are connected by various unhealthy love connections and clearly have too much time on their hands. The overarching theme of the book is good vs. evil. Smaller themes center on desire and war (i.e. the battle of various sexual exploits). I do recommend reading this book because of its literary weight, but it's not an easy read.
Review by Stormrose
16/06/2015
7/20 Just read it. It's good for you. And by good, I mean...well...not good precisely, since the entire novel is devoid of any kind of morality, but the story is brilliant, the writing is brilliant, and the portrayal of manipulation is just brilliant. A book to make you wonder what love us, and if we are capable of doing anything but use others to our own ends, it can be read either as pure entertainment, or as a more serious read - either way, you will enjoy it. And laugh. A lot. And be highly disturbed. It's hard to know who to root for, but that's part of what makes it fun. The relationship between Valmont and Meurteuille is fascinating, and the mystery of the two central characters keeps us reading. The bad are punished, but so are the good, and in the end, there are no straight answers - just the taste of corruption and laviciousness in our mouth. Again. Brilliant. If you read french, read it in french. It's much better that way.
Review by amerynth
16/06/2015
Incredibly good tale of two 18th century ruthless ex-lovers who enjoy nothing more than a good seduction. The book is told in a series of letters between the pair-- Valmont and Merteuil as they put a plan into action to seduce a convent girl as a way to get back at another of Merteuil's former lovers. Despite the heavy language and somewhat familiar feel (since so many movies have stolen from the plot,) the book is a compelling and easy read.
Review by shanaqui
16/06/2015
I don't know if this has occurred to anyone else, but all the machinations and pretenses ended up reminding me of the idea of courtly love -- of Andreas Capellanus' The Art of Courtly Love. Obviously the context is very different, and there is a consciousness of wickedness that isn't there with the medieval form of courtly love. But even so, the comparison was just so obvious to me.It's a very well put together piece of work, and I appreciate its ambiguities as well -- the translation and accompanying notes are very good. It is, of course, full of horrible people, but I think anyone who knows anything about the book knows that in advance.