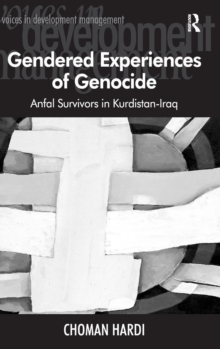 Gendered Experiences of Genocide : Anfal Survivors in Kurdistan-Iraq
Hardback
Description
Between February and September 1988, the Iraqi government destroyed over 2000 Kurdish villages, killing somewhere between 50,000 and 100,000 civilians and displacing many more. The operation was codenamed Anfal which literally means 'the spoils of war'. For the survivors of this campaign, Anfal did not end in September 1988: the aftermath of this catastrophe is as much a part of the Anfal story as the gas attacks, disappearances and life in the camps. This book examines Kurdish women's experience of violence, destruction, the disappearance of loved ones, and incarceration during the Anfal campaign.
It explores the survival strategies of these women in the aftermath of genocide.
By bringing together and highlighting women's own testimonies, Choman Hardi reconstructs the Anfal narrative in contrast to the current prevailng one which is highly politicised, simplified, and nationalistic.
It also addresses women's silences about sexual abuse and rape in a patriarchal society which holds them responsible for having been a victim of sexual violence.
Information
Format: Hardback
Pages: 232 pages
Publisher: Taylor & Francis Ltd
Publication Date: 28/04/2011
Category: Genocide & ethnic cleansing
ISBN: 9780754677154
Other Formats
Paperback / softback from £39.19
EPUB from £39.59
PDF from £39.59