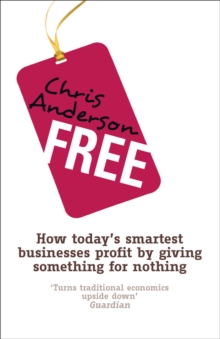 Free : How today's smartest businesses profit by giving something for nothing
Paperback
Description
What happens when advances in technology allow many things to be produced for more or less nothing? And what happens when those things are then made available to the consumer for free?
In his groundbreaking new book, "The Long Tail" author Chris Anderson considers a brave new world where the old economic certainties are being undermined by a growing flood of free goods - newspapers, DVDs, T-shirts, phones, even holiday flights.
He explains why this has become possible - why new technologies, particularly the Internet, have caused production and distribution costs in many sectors to plummet to an extent unthinkable even a decade ago.
He shows how the flexibility provided by the online world allows producers to trade ever more creatively, offering items for free to make real or perceived gains elsewhere.
He pinpoints the winners and the losers in the Free universe. And he demonstrates the ways in which, as an increasing number of things become available for free, our decisions to make use of them will be determined by two resources far more valuable than money: the popular reputation of what is on offer and the time we have available for it. In the future, he argues, when we talk of the 'money economy' we will talk of the 'reputation economy' and the 'time economy' in the same breath, and our world will never be the same again.
Information
Format: Paperback
Pages: 288 pages
Publisher: Cornerstone
Publication Date: 06/05/2010
Category: Monetary economics
ISBN: 9781905211494
Free Home Delivery
on all orders
Pick up orders
from local bookshops
Reviews
Showing 1 - 1 of 1 reviews.
Review by lorenz347
16/06/2015
This is one easy book that explain the difference from old economy matters & new business surviving models. It is written by Chris Anderson the former author of "The long tail" a must of technology books. Google example is reported in some aspects as microsoft declining in O.S. market. The Moore's law is another reference for understanding the actual situation & the future, that will provide more possibility than impossibility. Many others example treated into the book are: wikipedia, NYT, nestcape, google docs etc..The book (257 pages) has three section for 16 chapters. In the last chapter I look one idea of reading: The High Cost of Free Parking - Donald Shoup that explain the value of nature in relation to man.