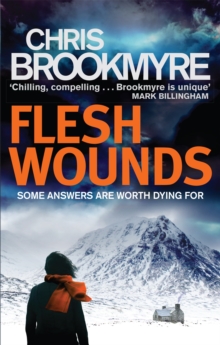 Description
One crime brought them together . . .Private investigator Jasmine Sharp should have wanted him dead.Yet somehow, Jasmine bonded with Glen Fallan, the man who killed her father before she was born.
Now he has been arrested for the murder of a local gangster, and Jasmine must finally enter his violent domain to seek answers.. . . a second will break them apartDetective Superintendent Catherine McLeod is in fear for her life.When she discovers a symbol daubed on the head of Fallan's alleged victim, it unearths secrets that will threaten everything Catherine holds dear.One murder.
Two women. A lifetime of lies revealed.
Information
Format: Paperback
Pages: 496 pages
Publisher: Little, Brown Book Group
Publication Date: 03/07/2014
Category: Crime & mystery
ISBN: 9780349138701
Other Formats
Hardback from £13.49
EPUB from £2.99
Free Home Delivery
on all orders
Pick up orders
from local bookshops
Reviews
Showing 1 - 2 of 2 reviews.
Review by AHS-Wolfy
27/08/2015
This is the third book in the Jasmine Sharp trilogy which intertwines the lives of private investigator Jasmine with Detective Superintendent Catherine McLeod and Glen Fallan the former gangster returned from the dead. Fallan is arrested for the murder of Stevie Fullerton, one of the foremost crime bosses in Glasgow. It seems an open and shut case and one which McLeod is more than happy to pursue with the intent of putting him away for a long time. Jasmine also want to investigate further as it should shed some light on her own past and the father she never met. Her mother was involved with Fullerton's crew back in the day but left that scene when she found out she was pregnant and had refused to tell Jasmine anything about it. Fallan, meanwhile, is saying nothing. Has he waited 20 years to get his revenge or is someone trying to set him up now that he's turned up very much alive? Can Jasmine find out who killed Fullerton and the truth about her father? Will McLeod finally lay to rest the demons that resurfaced since the return of Glen Fallan?This is a very satisfying conclusion to the trilogy. All of the threads woven through the previous two books are brought nicely together in this volume. The character progression continues with the three main protagonists continuing to grow and those on the sidelines aren't just there to make up the numbers. The plot is woven tightly through many twisting pathways so that you're never entirely sure of the final destination. Not sure if there will be any more in this series (the author is reverting to his earlier Parlabane books for his next one) but I will read it if a new one is released.
Review by atticusfinch1048
16/06/2015
Flesh Wounds – Brilliant Glasgow ThrillerPrivate investigator Jasmine Sharp in Flesh Wounds returns in the final book of the Sharp Trilogy written by Chris Brookmyre. Brookmyre's use of the Glaswegian really brings home the Glasgow setting and at the same time this book ties up all the loose ends, in a bloody violent ending. This is an example of the Glasgow Underworld clashing with the police and the occasional bent copper a shine example of the Glasgow crime thriller.Jasmine Sharp is still searching for who her father may be and as her mother is dead she is searching all the people that knew her when she was a lot younger. This will drag her real rather in to the midst of the murder investigation being conducted by the Polis into the execution of gangland boss Stevie Fullerton at one of his businesses. Jasmine does not realise that this murder will drag a lot of history up not only her family history but that of the underworld, bent police and cover ups and a wrongly convicted person in a murder. The murder of Julie Muir 25 years earlier officially had been solved but during this case everything seems to collapse especially when people start searching for the paperwork from the case. Officers are threatened to look the other way and close the case as quickly as possible.Detective Superintendent Catherine McLeod is the senior investigating officer who is also living in fear during the investigation that her past may come out. We see flashbacks of what McLeod has to hide and what it means to her and her family. The biggest question is will that history come out in the light of day.What we do see in this thriller is an excellent interaction of all the characters who are strong use of the Glasgow Patter which you can hear them speak. Through the use of language we can explore the darker side of Glasgow and that language brings forth some brilliant imagery, even more so if you know Glasgow.Flesh Wounds is an excellent conclusion to the Jasmine Sharp trilogy where we get the answers to the questions she has put to herself. At the same time we are sold a pup before finding out at the end the real truth as reader and Sharp can see what has been hidden in plain sight all the time. Brilliant novel by an excellent writer well worth reading and you will not regret it.
Also in the Jasmine Sharp series | View all