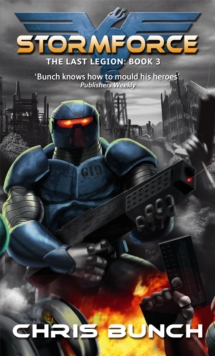 Description
On the outer fringes of civilization, a lone military force struggles to keep the peace in a volatile star system.
With no incoming communications from the Confederation Empire as guidance, only the Legion can stop a grasping tyrant from expanding his territories ...The dual system of Larix and Kura is controlled by dictator and self-styled Protector Alena Redruth, and he now has his eye on the Cumbre system.
His spies monitor the Legion's activities, but information can flow both ways ...Legion Intelligence Officer Njangu Yoshitaro will pose as Redruth's agent and infiltrate the upper echelons of the dual system's government.
It is a corrupt hierarchy comprised of petty autocrats vying for control.
Njangu can use these shifting loyalties to his advantage - unless the dictator discovers his identity first ...
Information
Format: Paperback
Pages: 384 pages
Publisher: Little, Brown Book Group
Publication Date: 06/12/2007
Category: Science fiction
ISBN: 9781841496283
Free Home Delivery
on all orders
Pick up orders
from local bookshops
Reviews
Showing 1 - 1 of 1 reviews.
Review by lewispike
16/06/2015
Having sorted out the Musth, the very first "baddy" encountered is the remaining obvious enemy, and he's the one that we have to face.This is a book in three rather distinct parts. In part one Njangu infiltrates the Protector's system to gather information. This has, very much, a Cold War spy novella feel, with the level of internal surveillance that must be overcome for him to manage his activities. He meets an old flame who helps him out, and becomes his companion.In part two, Njangu et al escape the Protectorate and there is a space war. In terms of the tactics this is rather sketchier than most (Bunch is apparently not as comfortable writing naval tactics as land tactics), and more or less mirrors the development of the war-room in a capital ship and the convoy v wolf-pack of U-boats naval warfare of WWII.Part three is the invasion of Larix and building to building combat. Whilst this could be anywhere, I have a sneaking suspicion it's based on one of the nastiest of the lot: Stalingrad.As always things move along at a fair old pace, even when you think it's going to be slow. The verisimilitude of re-enlisting and the way the soldiers act is just as strong as ever and adds to the stories as always.