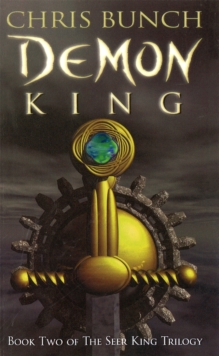 Description
Ten years ago, General Damastes pledged eternal loyalty to the wizard Tenedos, and to the seer's vision of a unified, peaceful Numantia.
Tenedos became emperor, but peace never came. Now Tenedos has amassed an army of millions, preparing for war against a kingdom far larger, more powerful, more magical than Numantia. And when Damastes tries to stop the apocalypse, he will uncover the dark truth about the bargain the Seer King made to gain an empire. Find out more about this title and others at www.orbitbooks.co.uk
Information
Format: Paperback
Pages: 560 pages, map
Publisher: Little, Brown Book Group
Publication Date: 01/04/1999
Category: Fantasy
ISBN: 9781857237610
Free Home Delivery
on all orders
Pick up orders
from local bookshops
Reviews
Showing 1 - 1 of 1 reviews.
Review by Uffer
16/06/2015
I suspect that Chris Bunch, when writing The Seer King and follow-on The Demon King, was having a bit of an experiment with technique. Unfortunately, I don't feel he quite pulled it off. The first book, you see, starts from the point of view of the end of the second. Both books are one Great Big Flashback. The problem here is that firstly, once we are launched into the flashback, there are no returns to the 'present' until we reach the end of the second book, but there /are/ - in the first book, at least - occasional statements that remind you that this is all history, pulling you back out of the narrative and which I found quite jarring; secondly, and probably unavoidably, there is just too much foreshadowing of the great betrayals that are coming. The upshot seems to be that you can't be swept up into the main character's memory and like him fail to realise what's coming, and you end up thinking of him as being something of an idiot because it's mostly so damned obvious what his boss is up to.I also find it hard to credit that an old soldier recalling his life at that point would go into quite so much 'Tab A to Slot B' detail about his sex life. I really didn't want to know which character was putting exactly what part of his or her anatomy precisely where, but nevertheless we get all the gory details; in fact there is more detail in the sex scenes than in the battles, which is quite unlike any fighter I have /ever/ known.That aside, it's a good story with some pretty solid characters. If I hadn't bought the third book at the same time as the second I might have hesitated to pick it up now, but I will be reading it and rather hope that the third book hasn't also been written 'backwards'.
Also in the The Seer King Trilogy series