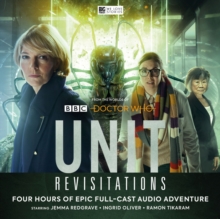 UNIT - The New Series: 7. Revisitations
CD-Audio
Description
Kate Stewart and her UNIT team investigate and confront alien attacks on the planet Earth in this new 5 disc boxset.
Over the years, UNIT has faced hundreds of extra-terrestrial threats.
The Black Archive holds relics of many such encounters, and UNIT's files are filled with reports of strange and dangerous aliens. And sometimes, they come back. 7.1 and 7.2 Hosts of the Wirrn by Chris Chapman. After the world's strangest interview, UNIT's latest recruit, Shana Siddiqui, hits the ground running tohelp Osgood with her latest assignment.
The Master left UNIT a parting gift - something alien and deadly.
The Wirrn have come to Earth, and now they are free. 7.3 Breach of Trust by David K Barnes.An alien vessel arrives on Earth, its occupants seeking refuge, and Osgood takes them in.But there is reason to mistrust this cry for help.
The files show that UNIT has faced the Kalvyri before.
What else they reveal will set Kate at odds with her most trusted friends.7.4 Open the Box by Roy GillIn the years since the Stangmoor Prison incident, Captain Chin Lee found a new calling.
She now heads up an international organisation, dedicated to meditation and `mental fortitude' training.
But there is a menace deep inside the Pandora Institute. And Kate, Osgood and Josh must face their darkest fears. Launching with 2015's Extinction, UNIT - The New Series was the first Big Finish range to use characters from the BBC mega-hit 21st century relaunching of Doctor Who! A thrilling full-cast audio with cinematic sound design and music, this set revisits some classic foes from the history of Doctor Who, including the monstrous Wirrn, parasites who create their young inside the bodies of living hosts!
Jemma Redgrave and Ingrid Oliver reprise the popular characters of Kate Stewart and Petronella Osgood as seen on TV in stories such as the globally cinema-screened Doctor Who - Day of the Doctor.
CAST: Jemma Redgrave (Kate Stewart), Ingrid Oliver (Osgood), James Joyce (Captain Josh Carter), Ramon Tikaram (Colonel Shindi), Vineeta Rishi (Shana), Roger May (Sergeant Brundle / Simon/ Fisherman / Jasper), Glen McCready (Marcus / Evans / Jacob), Katherine Senior (Kirsty / Private Sedgwick), Lizzie Stables (Vara / Norei), Richard Earl (Jarrack / Richard), Pik-Sen Lim (Doctor Chin Lee), Jonathan Christie (Seth Heyer), Simon Hepworth (Miles McLellan / Pandora).
Information
Format:CD-Audio
Publisher:Big Finish Productions Ltd
Publication Date:31/01/2019
Category:
ISBN:9781785759710
Also in the UNIT - The New Series series | View all