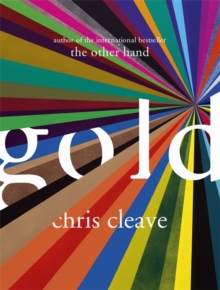 Description
The extraordinary third novel from Chris Cleave, author of the internationally bestselling, Costa-shortlisted THE OTHER HAND.
Usually, this is where we'd tell you what this book is about.
But with Chris Cleave, it's a bit different. Because if you've read THE OTHER HAND or INCENDIARY, you'll know that what his books are about is only part of the story - what really matters is how they make you feel.
GOLD is about the limits of human endurance, both physical and emotional.
It will make you cry. GOLD is about what drives us to succeed - and what we choose to sacrifice for success.
It will make you feel glad to be alive. GOLD is about the struggles we all face every day; the conflict between winning on others' terms, and triumphing on your own.
It will make you count your blessings. GOLD is a story told as only Chris Cleave could tell it. And once you begin, it will be a heart-pounding race to the finish.
Information
Format: Hardback
Pages: 384 pages
Publisher: Hodder & Stoughton General Division
Publication Date: 01/06/2012
ISBN: 9780340963432
Other Formats
EPUB from £1.99
CD-Audio from £13.79
Hardback from £23.65
eAudiobook MP3 from £20.12
Free Home Delivery
on all orders
Pick up orders
from local bookshops
Reviews
Showing 1 - 5 of 5 reviews.
Review by teresa1953
16/06/2015
The blurb on the book promised much...and, in the main, it delivered. Not quite the heart wrenching, tear jerker I expected, but different, and it taught me things I never knew about cycle racing!The three central characters, Zoe, Kate and her husband Jack are all medal winning track cyclists and the book begins at the 2004 Olympics. The story then moves seamlessly back and forward up to their preparation for the London 2012 Olympics. Kate and Jack's young daughter Sophie has cancer, and the strain it places on Kate's cycling career is well portrayed. Jack and Zoe also have a "past" and there are one or two surprises thrown up in the plotline because of this. I also enjoyed Sophie's "alternative world" where she went to avoid upsetting Mummy and Daddy and prevent them from seeing how much she suffered. She is a wonderful character, much older and wiser than her young years. Of particular note is Tom, Zoe and Kate's coach, a tough, but caring man who has to make a decision that tears him apart.I didn't expect to enjoy the details of track cycling and the "mind games" involved in the events, but I was pleasantly surprised and will be watching the cycling at the UK velodrome in July with great interest as a result....sadly on the couch at home...like most of us! Was it what I expected when I ordered the book? No it wasn't. In truth it's a book about cycle racing and the drama and relationship struggles took silver in this particular event. It promised to make me cry....it didn't, but it was well written and a pretty good read just the same.
Review by YossarianXeno
16/06/2015
When I first picked this up in an Oxfam bookshop, not having previously heard of the book or the author it was for one reason - the bright kaleidoscope of colour on the cover had sparked my curiosity. I read the blurb inside the dust jacket and was interested in the subject matter, essentially summarised as the physical and mental extremes top flight athletes reach in their training as they follow their quest for Olympic gold. So far so good. Eventually I bought it as the author's previous novels had good reviews from the Guardian, the Independent and the Telegraph; if you can get praise from all three, my thinking went, you must be doing something right. After reading though, my thoughts are more mixed. It is an easy read, and its interesting enough. But to a significant extent, the training serves as a backdrop to the personal lives of the two key characters, cyclists Kate and Zoe. Neither character is entirely believable, and somehow, the way the plot unfurls leaves you with the sense that the author has a formula: think up a new plot twists and insert at regular intervals throughout the book. Fair enough, drama is what makes novels interesting, but the best authors succeed in making such moments appear a natural progression; unfortunately, in this book, they often seem contrived.
Review by kiwifortyniner
16/06/2015
I enjoyed Chris Cleave's novel The other hand. Have still to read Incendiary. I like the different subject areas he writes about in his novels this one particularly. It concerns the world of Olympic cycling so it is a good release in this year of the London Olympics. The story of Kate (married to Jack), and Zoe all cyclists and their coach Tom is told in the lead up to the Olympics with flashbacks used to reveal the journey of their relationship up to this time. Both girls are training to make the London olympics. At age 32 it will be their last chance to compete. We are brought deep into their lives and become part of their daily struggles. Kate and Jack have a daughter Sophie who is facing her own fight to win against leukemia, so must balance their desire to win gold against this daily battle. Zoe has demons in her past that have left her with a tremendous desire to win at all cost, often putting friendship with the others to the test.. The friendship between the three has its stresses and strains, and the plot has many twists and turns that kept me guessing as to the end. I became compeltely immersed in this well written book and was racing the races with them. A really good read.
Review by Carolinejyoung
16/06/2015
An enjoyable book although, as I never read the blurb, I didn't realise it involved a child with cancer and, as this appears to be a far too common theme of books that I've read lately, I'm not sure if I would have chosen this book. That said, I found it easy to read and particularly liked the relationship between Zoe and Tom.
Review by siri51
27/08/2015
Couldn't finish this book either; good story of sporting rivalry but the eight year old with cancer was all too sad.