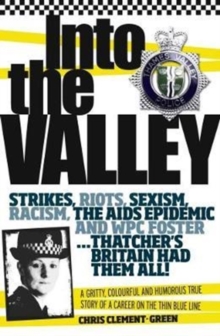 Into the Valley
Paperback / softback
Description
Encouraged by the sizeable pay increase and high divorce rate, Chris Clement-Green decided that answering a recruitment ad for the Thames Valley Police was just the thing for a much-needed overhaul of her life. It was 1984, a time before political correctness, at the height of the miner's strike and in the middle of five years of race riots.
Perfect timing. Expanding her police knowledge, her love life, and undeterred by sexist remarks she decided to make her mark, while kissing goodbye to her previous dull and conventional existence. Chris captures the colourful characters and humour in many of the situations she found herself in, but the job had its serious side, too.
She was at the centre of a riot in Oxford, during which her life was saved by a young black man she had previously stopped and questioned, and was attacked by a man with mental-health problems who was a consequence of the decision to move `care' into `the community'. Consistently colliding with the effects of Margaret Thatcher's politics; from miner's picket-lines, covering (badly) for striking paramedics during the ambulance dispute to everyday drunken disturbances caused by the haves (Yuppies and Oxford students) and the have-nots (alcoholic homeless and unemployed youth), Chris also tackled sex crimes and abuse. This is an often humorous, always candid and no-holds-barred reflection of the life of a policewoman in the 1980s.
Readers are given a personal account of a life in uniform, while touching on the Newbury Bypass demos, the effects of Scarman, the Hungerford Massacre, the bombing of Libya, the AIDS epidemic and working under the notorious Ali Dizaei.
Information
Format: Paperback / softback
Pages: 320 pages
Publisher: Mirror Books
Publication Date: 21/09/2017
Category: Memoirs
ISBN: 9781907324727
Free Home Delivery
on all orders
Pick up orders
from local bookshops