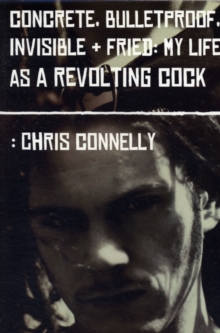 Concrete, Bulletproof, Invisible and Fried : My Life as a Revolting Cock
Paperback
Information
Format: Paperback
Pages: 256 pages, over 50 photographs & illustrations
Publisher: SAF Publishing Ltd
Publication Date: 31/10/2007
Category: Rock & Pop music
ISBN: 9780946719952
Free Home Delivery
on all orders
Pick up orders
from local bookshops
Reviews
Showing 1 - 5 of 5 reviews.
Review by Draino
16/06/2015
This is a really fun "must read" if you were into Wax Trax and industrial music, or the Chicago music scene in the late 80s and early 90s. Connelly is really witty and knows how to tell a tale. He is remarkably able to say "We got so f'ed up" over and over again in many new and fun ways (I mean this as a compliment, not sarcastically.) I've been recommending this to all of my friends who are into music.
Review by samsheep
16/06/2015
Loved Chris Connelly / Ministry / Revco for many years so a real treat to hear his account of their glory years. Well written with good humour and candour. Felt slightly depressed to read that the gigs I went to and thought were amazing were in fact mostly drug-addled disasters from his perspective! Very glad he's still going strong - must have a Keith Richards constitution!
Review by librarianbryan
16/06/2015
Not much new here, per the maximum drugs per 24 period between gigs rock touring formula. It's seems to reworked from journals he kept while being member of the Ministry / Revolting Cocks family. Though Connelly is a published poet, it felt he was keeping any literary intentions to a minimum opting for a "just the facts ma'am" recount of five years of debauch-rock-choas. Though it hardly reinvents the wheel, I can't help but to be enthralled as it details the creation of some of my favorite teenage albums. For more academic pop-cultural anthropologists its a first hand account of the minor phenomenon that was Wax Trax records. At points Connelly seems unduly harsh on personalities that made it all possible for him in the first place. The fateful events that lead him to be lead singer of the Revolting Cocks are one step up from Ripper Owens territory. To his credit he doesn't use the book as an advertisement for his subsequent solo work which is very different from his Wax Trax period but not as commercially successful. Were the Revolting Cocks ever commercially or artistically successful?
Review by quantumbutterfly
16/06/2015
If you were ever a rivethead, odds are good that at some point you were a fan of some project relating to Ministry. Chris Connelly played a notable role in both Ministry and several side projects. Here he tells the story of how a scrawny boy from Scotland found his way to Chicago and into the madness of late 80s industrial. No stone is left unturned as he chronicles the substances he put into his body and the exploits he got up to while in the studio and touring. If it seems like a big haze that is probably because it is how he felt at the time too. Enjoy a trip down memory lane, if only in a vicarious way.
Review by tlockney
16/06/2015
This book details the entertaining, though not terribly surprising story over the handful of years during which Chris Connelly performed and recorded with various combinations of the Wax Trax!/Ministry/Revolting Cocks/etc. circle (this included what I would consider his better works, such as Murder, Inc. and, later, The Damage Manual). The story is at times hilarious, sometimes horrifying (well, not really, but your grandmother might be horrified), and always just a bit debauched. If you ever enjoyed that era of Chicago-based music and wondered what really went on, this book is worth a read. Don't expect to walk away feeling better for having read it, but it's at least possible you might laugh out loud once or twice.