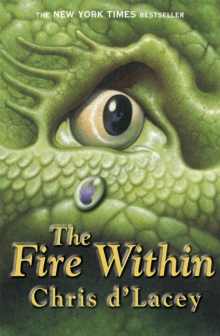 The Last Dragon Chronicles: The Fire Within : Book 1
Paperback
Description
'David ran a hand through his mop of brown hair. Dragons. It was certainly different from his last set of lodgings, where all you got were spiders and the occasional mouse. "It's perfect," he said.'When David arrives at Wayward Crescent he has no idea what lurks inside the Pennykettle house.
Only when he's given his own special dragon does he begin to unlock their mysterious secrets, and to discover the fire within...
Information
Format: Paperback
Pages: 288 pages
Publisher: Hachette Children's Group
Publication Date: 27/09/2001
Category: General
ISBN: 9781841215334
Free Home Delivery
on all orders
Pick up orders
from local bookshops
Reviews
Showing 1 - 4 of 4 reviews.
Review by woosang
16/06/2015
Not what I expected but this children's book is stilla delight to read. It IS about dragons, but also about a squirrel. The dragons are everywhere in Mrs Pennykettle's house and when David moves in as a lodger, he is goven his own special dragon. He doesn't understand at first, the significance of the dragons and helps Lucy tracks down an injured Squirrel. For Lucy's birtday he writes the adventures of Conkers the Squirrel with the help of his new dragon.The writing is perfect for its age group and not dumbed down so adults will be happy to read the text to their children at night. I look forwards to book two.
Review by yosbooks
16/06/2015
A fantasy story set in suburbia about dragon statues that are really alive. A good read. For kids who like more adventurous stories, the Rondo series by Emily Rodda may be better.
Review by mandochild
16/06/2015
It's now been a while since I read this book so I've forgotten so many details. But I particularly wanted my first blog entry [this was originally posted on my newly created blog] to be about The fire within because I was so delightfully surprised by it.My bookshelf is crammed with books waiting to be read - sometimes I wonder how I ever ended up with so many. And the list of books I either want to borrow or buy is even longer. Perhaps I should give up work and devote more time to simply reading.Anyway, I have arranged my "to be read" shelves in order - basically along the lines of "newest acquisition to the back" but also with an eye to providing balance and contrast. I also cheat sometimes and bring absolute must reads straight to the front.As a result, some of the books on my shelf have been there for years, and I am determined to get through them all. I can usually remember exactly where, when and why I picked them up. Not so this one. When I finally reached the turn of The fire within I couldn't for the life of me remember how I'd ended up with it. I groaned inwardly at the prospect of reading it because it showed a dragon on the cover, and, with exceptions, I am bored by much of fantasy.But, having reached it, I decided I might as well at least have a look. And was immediately captivated. I can't even quite decide the intended audience of the book. It is written as though for a younger audience - say a 10 year old - but the protagonist is 20 and his 10/11 year old friend is portrayed as very immature (if nice).Far more important to me is that it isn't fantasy at all. Not in the sense of a fantasy universe populated by princesses and dragons. Instead, it dwells on that delightful knife-edge between reality and "what if..." At no point does it become obvious whether or not the dragons are real, or whether they are simply a creative visualisation. The dragons could simply be a kind of imaginary "spirit guide" - a means of accessing the subconscious. Or, there could be more to the universe than we will ever understand.In other words - this book dances in the wonder of our own universe, reminding us that life is infinite while our understanding is not. In that sense (but that sense only) it reminds me of David Almond, and I am so glad that it somehow at some point found its way to my shelf.
Review by boppisces
16/06/2015
First in a series called the Last Dragon Chronicles. 20-year-old college student David is desperate for a place to live. He rents a room on Wayward Crescent from Liz Pennykettle and her 10-year-old daughter, Lucy. Liz creates and sells clay dragons at a local market and Lucy is trying to save some squirrels from a neighbour who arranged to have their home, an oak tree, cut down. Liz creates a dragon especially for David. Its name is Gadzooks and it's ability is story writing. David notices unusual things such as the fact that the house is always warm and yet possesses no obvious heat source and also that there is no kiln to fire the newly made dragons. With help from Gadzooks David writes a story for Lucy's 11th birthday about the squirrels. There are clues scattered throughout the book on what abilities Liz and Lucy, as well as their dragons, possess, but if David does not love his dragon, all is lost.The focus on this tale is the relationship between Lucy, Liz and David. There is a lack of action and a slow pace to the book, but it is interesting as the reader tries to unfold the events that take place into some sort of understanding of the story.
Also in the The Last Dragon Chronicles series | View all