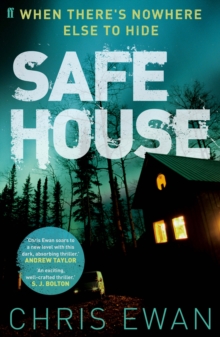 Description
When Rob Hale wakes up in hospital after a motorcycle crash he is told that Lena, the woman he claims was travelling with him, doesn't exist.
The woman he describes bears a striking resemblance to his recently deceased sister, Laura, but has he really only imagined her?
Rob sets out to find the answers to who Lena is and where she has gone.
He is aided by Rebecca Lewis, a London-based PI, who has come to the Isle of Man at the behest of his parents to investigate his sister's suicide.
But who is Rebecca really and how did she know his sister?
Together Rob and Rebecca follow the clues to discover who took Lena.
In doing so they discover that even on an island where most people know each other, everyone hides a secret, and that sometimes your best option isn't to hide but to stay and fight.
Information
Format: Hardback
Pages: 448 pages
Publisher: Faber & Faber
Publication Date: 01/08/2012
Category: Crime & mystery
ISBN: 9780571290635
Other Formats
Paperback from £7.15
EPUB from £5.58
Free Home Delivery
on all orders
Pick up orders
from local bookshops
Reviews
Showing 1 - 5 of 6 reviews.
Previous | Next
Review by VivienneR
16/06/2015
When he wakes up in hospital after a motor cycle crash, Rob Hale is told the woman he was riding with doesn't exist. In this thriller mystery no one is what they seem, or what they claim to be. Is there anyone to be trusted?This book is set on the Isle of Man, famous for the TT motor cycle race. An excellent book, great characters, it was hard to put down. I hope it's the first in a series. Ewan is better known as the author of the Good Thief's Guide series.
Review by Eyejaybee
16/06/2015
This book proved to be one of those occasional examples of serendipity. I have to admit that I knew nothing about it and bought it from the kindle Store primarily because it only cost 20p! I certainly got far more than my money's worth!apart from anything else, I was most intrigued by the setting. The action takes place on the Isle of Man (about which I know virtually nothing) and the principal protagonist is Rob Hale who nakes his living as a plumber but has aspirations as a motorcyclist and regularly competes in the island's prestigious TT Race. As the novel opens he is on his way to a remote cottage where he has been summoned to address a problem with the central heating system. While grappling with an ancient and neglected boiler he meets Lena, who seems to be staying there with two men. She seems very restless and when hale has to leave to collect some additional parts persuades him to come back with her motorbike to take her for a ride. She makes it sound almost as if she is escaping from the two men. Hale complies, and they duly set off, but an accident befalls them very quickly. When he regains consciousness Hale finds himself in hospital with not trace anywhere of Lena, and the various medics treating him deny any knowledge of her.At this point we learn that just a few weeks previously Hale's sister Laura (hitherto unmentioned) had committed suicide by driving over a local cliff. And then Hale meets Rebecca, a private detective apparently retained by his parents to investigate Laura's death. She agrees to look into the curcumstances surrounding Hale's accident.Ewan keeps the tension high throughout the book, frequent changing the narrative perspective. The plot is sinuous but plausible, and the characters are all perfectly credible.Certainly a very fortuitous discovery, and I shall be looking for more of Ewan's books.
Review by Liz1564
16/06/2015
I thoroughly enjoyed Safe House. It is a thriller about a nice guy who finds himself involved with a kidnapping, murder, and international conspiracy with suitable cover-up. Rob Hale first has to persuade the police that there was a girl who was kidnapped since there appears to be no evidence that she existed. He finds an ally in an attractive private investigator who unexpectedly shows up and does not question his story. As Rob and Rebecca follow the clues to try to find the girl the net widens to include Rob's own sister who recently died in a mysterious car accident.Alternating with the Rob chapters, are chapters about the plight of the missing girl, the daughter of a reclusive billionaire. She is a tough, resourceful young woman who is a victim only because she was betrayed by people she trusted and overcome by men physically stronger than she is. Her brain is working all the time to even the odds in her favor.It is a fast-moving story with a very likeable hero. Like many thrillers, a close analysis exposes the improbabilities and flaws in the plot. Still, a good read with a wonderful setting on the Isle of Mann.
Review by susiesharp
16/06/2015
Full Disclosure: I received this audiobook from the Audiobookjukebox and the publisher AudioGo for a fair and honest review.This was my first Chris Ewan but it definitely won't be my last! On the Isle of Man Rob Hale a heating and plumbing guy who is also a motorbike racer takes a job at a remote plantation house to fix the water heater when he arrives a shifty man with sunglasses on answers the door and shows him to the garage while doing the work a beautiful woman named Lena shows some interest in Rob and asks for a ride on his bike, he comes back that next day and they go riding and crash when Rob wakes up in the hospital and asks about Lena no one seems to know what he's talking about they say he was alone on the bike and this is where our mystery begins. There is not only the mystery of Lena and what happened to her but it somehow connects to the death of Rob's sister with the help of private detective Rebecca, Rob sets out to find out just what is going on. I enjoyed this mystery very much it kept me guessing till the end, it had so much going on but I never got confused by all the characters and side stories that all end up back at the same place. I also enjoyed the fact that there was nary a swear word in this hard edged thriller that was refreshing! I enjoyed the character of Rob it was nice to have an everyday man as our hero and also to have a very strong woman in the character of Rebecca she was tough and in charge without being over the top. I also like the fact that there was a bit of humor in the character of Rob's grandpa and he was just that a character!There is so much going on in this book that I don't want to say too much because it may give things away and ruin this book for you, so I will just say this is a great mystery/thriller that I highly recommend on audio!Simon Vance's narration is as usual phenomenal he has such a great range of accents and inflection, accents for Rob and the other residents of The Isle of Man were great and he also had an American, a few different Europeans and Londoners accents each done with ease. Simon is always a go to narrator I will always pick the audiobook over the paper book if he is narrating!As I said this is my first book by this author and I will be getting his Good Thief's books especially since they are also narrated by the wonderful Simon Vance.4 Stars
Review by lozbeth1
16/06/2015
A real page turner, events definitely do not go as you would expect.