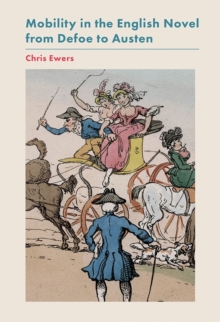 Mobility in the English Novel from Defoe to Austen
Hardback
Description
In 1700 the fastest coach from London to Manchester took five days.
By 1790 the development of the turnpike road system across England had reduced this figure to twenty-seven hours, and both the landscape and the ways in which people experienced it had been radically transformed. This revolution in transport came at the same time as the emergence of the novel as a dominant literary form in Britain.
In this highly original reading of some of the major novelists of the long eighteenth century - Defoe, Fielding, Smollett, Sterne and Austen - Chris Ewers shows how these two developments interacted.
He argues that this reconfiguration of local geography and the new experience of moving through space at speed had a profound effect upon the narrative and form of the novel, leaving its mark on genre, prose technique, the depiction of class and gender relations and the way texts are structured.
It is no accident, he concludes, that the arrival of the novel, the literary form that uses life-as-a-journey as a master trope, is roughly co-terminous with the revolution of internal transport in Britain. CHRIS EWERS is a lecturer in Eighteenth Century Literature at the University of Exeter
Information
Format: Hardback
Pages: 233 pages, 3 Line drawings, black and white; 9 Illustrations, black and white
Publisher: Boydell & Brewer Ltd
Publication Date: 13/03/2018
ISBN: 9781783272969
Free Home Delivery
on all orders
Pick up orders
from local bookshops