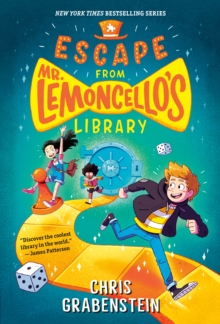 Escape from Mr. Lemoncello's Library
Paperback
Information
Format: Paperback
Pages: 320 pages
Publisher: Random House USA Inc
Publication Date: 24/06/2014
Category: General
ISBN: 9780307931474
Free Home Delivery
on all orders
Pick up orders
from local bookshops
Reviews
Showing 1 - 5 of 6 reviews.
Previous | Next
Review by acargile
16/06/2015
This novel is about a library that's much like a video game where it's interactive and challenging to learn the different levels of the library system. Kyle Keeley loves to play video games and is very competitive. While on the school bus, his friend Akimi asks if he finished his extra credit essay on "Why I'm Excited About the New Public Library." Alexandriaville hasn't had a library in 12 years because the city doesn't support it; they tore down the library to build an elevated parking garage. Mr. Lemoncello, who grew up in Alexandriaville and loved the library where the librarian, Mrs. Tobin, was kind to him and helped him learn as he rose from a poor kid to being very successful, is building the most modern and innovative library ever. Therefore, only 12 year olds, who have never had a library, can apply to win the sleep-in in the new library. Kyle writes a quick essay after hearing games may be involved for those who win, as he doesn't read much.At the assembly Kyle is surprised to be selected. There are many cool prizes, including $500 to spend on games. Kyle and his friends spend the night in the library experiencing the 3D library experience, which is really cool. In the morning, however, the doors are locked and they can't get out. There's a new game—a mystery to solve. Whoever can find the clues left for them and find a way out of the library besides the main doors will win. The clues are clever and it's fun to figure the mystery out with the characters in the book.
Review by librarian1204
16/06/2015
How could you not love this book! Book lovers and librarians can rejoice in a book this good. Puzzles, plot, characters.
Review by sszkutak
27/08/2015
I loved this book! I want to share it with the world!... Escape from Mr. Lemoncello's Library is like a combination of Willy Wanka, a puzzle book, and a library. It kind of make me think of the movie from the 90's called The Pagemaster, but instead of solving puzzles to get back to real life (out of an animated tale), these kids are figuring them out to get out of the library for a prize.The book starts off telling the tale of Kyle, who is always competing with his brothers and when the chance arises to enter a school contest he originally thinks nothing of it. He then realizes that it is being held by his favorite game maker, the famous Mr. Lemoncello. Through the book there isn't much character building but Kyle realizes that the best way to play the game is with others versus being overly competitive - which is nice. The puzzles were my favorite part, the book is full of them. There are even ones outside of the story. I found myself wanting a piece of paper nearby to complete the puzzles for myself versus reading the answers as the kids in the story figured them out. It think Middle Grade readers who enjoy word and picture puzzles will have a blast with this as well. I could even see this as a great book for the family to read and experience together.I think older readers will enjoy this book as well as it sprinkles various nods to classic books and events throughout. I found myself laughing out loud, participating in the puzzles and trying to figure it all out for myself before the kids did. It was a lot of fun.
Review by jnwelch
27/08/2015
Escape from Mr. Lemoncello's Library by Chris Grabenstein is a fun middle grade book, with puzzles that made me think of The Westing Game. Teen Kyle Keeley is a game player, and not really a reader. But a fantastic new public library in his town created by game designer Mr. Lemoncello sounds so great he successfully enters a competition to stay in it overnight with several other kids before it opens. The challenge, with a prize, is to find a hidden way back out by following literary clues. References to old favorite books like The Mixed-Up Files of Mrs. Basil Frankweiler are sprinkled throughout, some overtly and some concealed in various ways, and they are listed at the end. Kyle ends up wanting to read many of them.
Review by jfe16
16/06/2015
It's been a dozen years since the old library in Alexandriaville, Ohio was torn down. But Luigi Lemoncello, the world's most famous game maker, has designed a new library for the town and it's finally ready to open. Kyle Keeley, a seventh grader who spends most of the time in the shadow of his two athletic older brothers, is not too big on reading and report-writing, but he's good at games. Really, really good. And at the moment he has his heart sent on spending the night tucked away in that brand new library as one of the dozen twelve-year-olds chosen for this honor. After all, there's likely to be free food and movies and prizes. And games. Luigi Lemoncello games. Kyle's first problem is to get chosen for the lock-in; chances are his one-sentence essay on why he's excited about the new public library just might fail to impress the judges. And not impressing the judges will definitely torpedo his chance of being selected for the lock-in. But what no one knows is that for the lucky students chosen for the exclusive lock-in event, getting into the new library is going to be a whole lot easier than getting out.The inventive plot may owe a nod of thanks to Roald Dahl, "Night at the Museum," and "Floors," but the references to a wide variety of books that middle grade readers will instantly recognize puts this delightful tale in a class of its own. Adults should not be fooled into dismissing the book as one meant only for young readers; they are likely to find themselves enchanted as the non-stop action pulls them right into the story. Highly recommended.