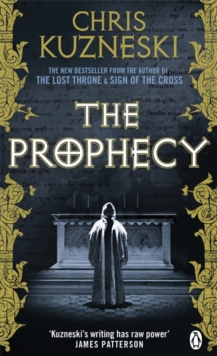 Description
Jonathon Payne and David Jones are back in the fray in the latest page-turner from Chris Kuzneski, international bestselling author of The Lost Throne, Sword of God, and Sign of the Cross.When the prophetic writings of sixteenth-century visionary Nostradamus begin to ring alarmingly true, Payne and Jones find themselves in a life-or-death race across the world to stop those who would use the French seer's predictions for their own dark purposes.With the breathless pace that has found Chris Kuzneski millions of fans around the globe, The Prophecy is a must-have adventure thriller.
Information
Format: Paperback
Pages: 560 pages
Publisher: Penguin Books Ltd
Publication Date: 01/10/2009
Category: Thriller / suspense
ISBN: 9780141037080
Free Home Delivery
on all orders
Pick up orders
from local bookshops
Reviews
Showing 1 - 3 of 3 reviews.
Review by SonicQuack
16/06/2015
The Prophecy once again places ex-marines Payne and Jones in the middle of an historical puzzle. This time the plot is rather thin and although the story is peppered with action there is a lack of suspense. Once more Kuzneski uses the world's famous landmarks for the action and as the tale unfolds the pair find themselves globetrotting once more. The Prophecy offers suprisingly little closure, the banter between Payne and Jones wears a little thin and the lack of decent plot material ensures that this entry in the series is the weakest so far.
Review by WilliamPascoe
16/06/2015
I did not like this at all. The characters just did not gel, I found them unbelieveable & their wise cracking just got on my nerves. The plot was ponderous & seemed formulaic. I did not finish it.
Review by Speesh
16/06/2015
This one I got cheap from the Porthcawl RNLI second-hand book section.<br/><br/>And just as well.<br/><br/>I suppose I shouldn't be too harsh on it, as it didn't exactly cost me a whole lot, however...it had been on my Amazon 'Wish List', so it could have been a lot worse.<br/><br/>It's a story based around Nostradamus, both the man and his predictions. But that seemed to be pushed a little too much into the background, for my liking. It seemed just a frame-work for what is really a pretty formulaic (the main bad guy is a refined, super-rich, un-scrupulous but well-mannered killer; the good-guys are one black, one white, Special Forces-trained, rich, good-looking, wise-cracking, with rich friends who are experts in the fields our heroes need expertise from, or well-connected friends, still working where they need them to be and who are experts in the other fields they need them to be experts in) story; everything functions as it should, when it should. And everything is consequently un-realistic and detached from reality.<br/><br/>Whilst it's nowhere near as bad as a Clive Cussler 'novel', the problem I had with it was, it read very quickly, the story was rather slight and it generally felt like a knock-off. It felt like his publishers had said "Quick! We need to get a book out fast! What have you got?" "Well, I'm half way through this one..." "Right, finish it by the weekend and we're good". One would hope that whatever else he was working on at the time this demand came in, is better than this one.<br/><br/>Well worth the 20p it cost.
Also in the Jonathon Payne & David Jones series | View all