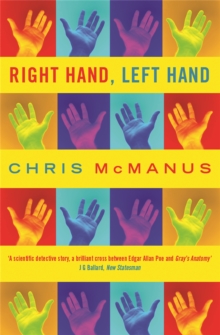 Right Hand, Left Hand
Paperback
Description
Winner of the Aventis Science Book Prize. 'A scientific detective story, a brilliant cross between Edgar Allan Poe and Gray's anatomy' J G Ballard, New Stateman Books of the Year- Why are most people right-handed?
Do left-handers behave differently from right-handers?- Why is the heart on the left-hand side of the body?- Why is each side of the human brain so different?- Why do the British drive on the left?
Why do European languages go from left to right, while Arabic ones read the other way?- Why do clocks go clockwise?- What is the relationship between handedness and speech disorders, such as stuttering?RIGHT HAND, LEFT HAND uses sources as diverse as the paintings of Rembrandt and the sculpture of Michelangelo, the behaviour of Canadian cichlid fish and the story of early cartography.
Modern cognitive science, the history of the Wimbledon tennis championship and the biographies of great musicians are also used to explain the vast repertoire of 'left-right' symbolism that permeates our everyday lives.
Information
Format: Paperback
Pages: 480 pages
Publisher: Orion Publishing Co
Publication Date: 01/11/2003
Category: Popular science
ISBN: 9780753813553
Free Home Delivery
on all orders
Pick up orders
from local bookshops
Reviews
Showing 1 - 2 of 2 reviews.
Review by herschelian
16/06/2015
When my daughter was young she attended the Royal Institution's Christmas Lectures for several years, and one of the early lectures she went to was on the subject of 'handedness'. She was very excited by the ideas she had heard and conveyed her fascination to me - ever since then I too have been interested in the subject. I was thrilled to find this book, for which the author won the 2003 Aventis General Prize for Science Books. It is a meaty work, McManus covers the history of the study of asymmetry, biology, language, neuro-physiology, particle physics as they pertain to handedness, and much more besides. I have been reading it little by little, trying to absorb each new idea before I move on. Asymmetry permeates our daily lives and this book goes a long way towards explaining why that is.
Review by SylviaC
16/06/2015
Reading this book took me less time than I expected, as it was surprisingly engaging. I would recommend it to anyone who wants to know (a lot) more about the concepts of symmetry/asymmetry, left/right, and handedness. Some of the disciplines the author brings in are biology, chemistry, physics, linguistics, literature, philosophy, psychology, and history. There are lots of little diagrams to illustrate his points. Some of the details of the chemistry and physics were beyond me, but I was able to get the gist of it. This one had both sides of my brain working.