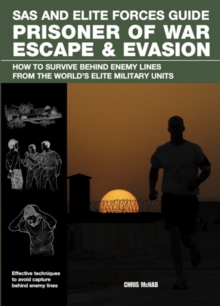 Prisoner of War Escape & Evasion : How to Survive Behind Enemy Lines from the World's Elite Military Units
Paperback
Description
This book offers useful tips and solid advice on how to evade capture and, if that fails, how to escape.
Key topics include the will to survive; handling stress in captivity; escape techniques; survival in a variety of environments, including urban, rural, jungle and desert; how to forage for food; tracking and how to cover your tracks; navigation, with or without a map; and seeking recovery by friendly forces.
The book also includes a number of real life accounts of prisoner of war escape from World War II, including The Great Escape story and Colditz, the Vietnam War (Dieter Dengler, with others, escaping from Laos), the Balkans, Iraq (Thomas Hamill in 2004) and Afghanistan. With more than 120 black and white artworks and with easy-to-follow text, Prisoner Of War Escape and Evasion is for anyone who wants to know how to survive in the most stressful of circumstances and emerge a winner.
Presented in a handy, pocket-size format, this is a book you could take with you into the field; and it could save your life. About the Author Chris McNab is a wilderness expert, military specialist and author of over 20 survival publications, including How to Survive Anything, Anywhere, Living off the Land, and SAS Training Manual: Endurance Techniques.
He holds a PhD from the University of Wales and lives in south Wales, UK.
Information
Format: Paperback
Pages: 320 pages, 120 illustrations
Publisher: Amber Books Ltd
Publication Date: 15/02/2012
Category: Outdoor survival skills
ISBN: 9781908273154
Free Home Delivery
on all orders
Pick up orders
from local bookshops