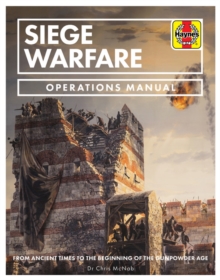 Siege Warfare Manual : Engines, equipment and techniques
Hardback
Description
Siege warfare is a demanding form of combat, which occupies a unique place in military history.
In contrast to mobile combat, a siege centres on a fixed location, whether a simple hill fort or an entire walled city, and the attacking force has to utilize a mixture of guile, patience, technology and brute force to wear down their opponents, smash through the defences and force submission.
This book tracks the technology, artillery and tactics of starting and maintaining a siege from ancient times to the beginning of the gunpowder age, charting the struggle between defensive structures and the various engines designed to overcome them.
The offensive tools that military engineers designed are closely examined, and battering rams, trebuchets and ballista are illustrated in minute detail.
Once walls are breached, an attacking force then had to get troops inside, and the book also discusses the mining and assault tactics that exploited breaches, and what happened once the invaders had penetrated defences.
The more subtle arts of siege warfare are also explored, and the critical roles that negotiation, etiquette, spies, sabotage and infiltration could play for forces both sides of the walls.
Information
Format: Hardback
Pages: 192 pages, 200
Publisher: Haynes Publishing Group
Publication Date: 16/01/2018
Category: Military history
ISBN: 9781785211461
Free Home Delivery
on all orders
Pick up orders
from local bookshops