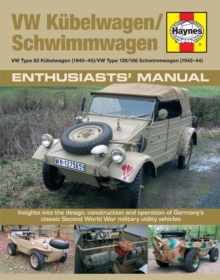 VW Kubelwagen/Schwimmwagen Enthusiasts' Manual
Hardback
Description
Few war films made about the 1939-45 period are complete without sight of a boxy little Kubelwagen light utility vehicle being smartly driven by a German officer.
Designed by Ferdinand Porsche and built by Volkswagen, the 'Kubel' was to the Germans what the Jeep was to the Allies and was used widely by the Wehrmacht and the Waffen-SS.
When production ceased at the end of the war, 50,435 Kubelwagen had been built.
Of simple but sturdy construction, the VW Type 82 Kubelwagen (which translates as 'bucket car' because of its similarity to a metal bathtub on wheels) was based closely on the legendary VW Beetle.
Its winning design features included air cooled engine (the absence of a radiator meant the engine was less vulnerable to bullet damage), a light-weight, flat and smooth under-body that allowed the car to slide over the surface when its wheels were sinking into sand, mud or snow, independent suspension, portal gear hub reduction and self-locking differential. Because the body was not a load-bearing part of the structure of the vehicle it could easily be modified to special purposes. Several dozen variants of the 'Kubel' were developed and built during the war including its cousin the Schwimmwagen.
The VW Type 128 and 166 Schwimmwagen (which means floating or swimming car) were amphibious four-wheel drive off-roaders.
Like the Kubel, they were used widely by the Wehrmacht and the Waffen-SS during the Second World War.
The Type 166 Schwimm is the most numerous mass-produced amphibious car in history (14,265 between 1942 and 1944).
Erwin Komenda, Ferdinand Porsche's first car body designer, developed an all-new unitised body-tub structure for the Schwimmwagen swimming car.
When crossing water a screw propeller could be lowered from the rear deck engine cover and coupled to the engine's crankshaft to provide drive.
The 'Schwimm' also shared many of the Kubel's mechanicals.
The appeal of the Kubel lived on long after the war's end when a derivative version, the Volkswagen Type 181, was manufactured by VW from 1968 to 1983. This was a two-wheel drive, four-door, convertible, off-road military vehicle, which had been developed for the German Army but was also sold to the civilian market as the Kurierwagen in Germany, the Trekker in the UK, the Thing in the US, and the Safari in Mexico.
In recent years both the Kubel and Schwimm have acquired something of a cult status among military vehicle collectors worldwide, particularly in Europe (eg, Germany, Poland Czech Republic, Switzerland), the UK and US.
There are literally dozens of Kubelwagen and Schwimmwagen enthusiast/owner/interest groups!
About 150 original Type 166 Schwimmwagens remain today.
Their rarity and availability contributes towards a vehicle's price tag of more than GBP110,000. Original and replica Kubels can sell for upwards of GBP30,000 each.
Information
Format: Hardback
Pages: 160 pages
Publisher: Haynes Publishing Group
Publication Date: 27/04/2015
Category: Tanks & military land vehicles
ISBN: 9780857337795
Free Home Delivery
on all orders
Pick up orders
from local bookshops