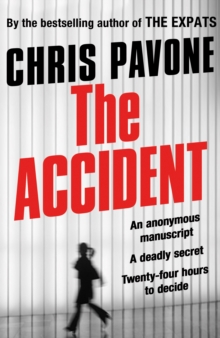 Description
From Edgar Award-winning Chris Pavone, author of the Sunday Times and New York Times bestseller The Expats, comes a riveting time-bomb of a thriller (fans of The Expats will be excited to see a few characters from Pavone's first book pop up here as well).
Taking place over the course of twenty-four hours, The Accident draws on the rich worlds of publishing, politics and international spies to tell a suspenseful tale of intrigue in the vein of John Grisham and Laura Lippman.
In New York City, Isabel Reed, one of the most respected and powerful literary agents in the city, frantically turns the pages of a manuscript into the early dawn hours.
This manuscript - printed out, hand-delivered, totally anonymous - is full of shocking revelations and disturbing truths linked to a car accident that occurred years ago, things which could compromise national security.
Is this what she's been waiting for her entire career: a book that will help her move on from a painful past, a book that could save her beloved industry...a book that will change the world?In Copenhagen, Hayden Gray, a veteran station chief, wary of the CIA's obsession with the Middle East, has been steadfastly monitoring the dangers that abound in Europe.
Even if his bosses aren't paying attention, he's determined to stay vigilant. And he's also on the trail of this manuscript - and the secrets that lie at its heart.
For him, quite simply, it must never see the light of day.
As Isabel and Hayden try to outwit each other, the nameless author watches on from afar.
With no-one quite sure who holds all the cards, the stakes couldn't be higher: in just one day careers could be ruined, devastating secrets could be unearthed, and innocent people could die.
As the manuscript moves from person to person, it leaves a trail of bodies in its wake.
Gripping, sophisticated, and impossible to put down, The Accident is a masterful follow-up to one of the most acclaimed and striking debut thrillers of recent years.
Information
Format: Hardback
Pages: 400 pages
Publisher: Faber & Faber
Publication Date: 26/02/2014
Category: Thriller / suspense
ISBN: 9780571298921
Other Formats
Paperback from £7.15
Hardback from £10.25
Free Home Delivery
on all orders
Pick up orders
from local bookshops
Reviews
Showing 1 - 1 of 1 reviews.
Review by Eyejaybee
16/06/2015
Isabel Reed is a reader for an independent New York literary agency. Her long-term friend Jeffrey is a reader for an ailing publishing house that has come under threat of takeover by a burgeoning multimedia empire. Charlie Wolfe is a multi-millionaire who owns the media giant and he dreams of seeking public office. Out of the blue Isabel receives a hard copy of an anonymous biography of Wolfe which makes some devastating, potentially career-wrecking allegations.As the novel opens Isabel has just finished reading the draft and is amazed at the potential of this book, and starts to think in terms of seven-, or even eight-, figure advances for publication rights. She also realises that such a valuable publishing property, susceptible to legal intervention, must be kept secret for as long as possible. She has the manuscript and her assistant has what she believes is the only photocopy, and she wants to keep it that way for as long as possible. The manuscript had been delivered by a courier, and the only contact detail provided for the author is an email address. This, however, appears to have been disabled, and Isabel's attempts to write to the author bounce back as 'undeliverable'. And then events take a sinister turn, and it becomes clear that someone is very anxious to ensure that the book is never published. The novel flits between Isabel, the anonymous author and the nefarious agent who is striving to recover the manuscript before its contents can reach the public domain. These ingredients lend themselves to a taut thriller as the hunt for the manuscript moves at lightning speed between Europe and America. We are drip fed nuggets from the biography, though Pavone tantalises the reader with a series of unexpected twists. I congratulated myself on seeing through one of the major turns but was completely sold the dummy over a couple of others.The writing is taut and stark, which supports the build-up of the tension. There is little flamboyancy in the prose, but none is needed - the plot generates, and sustains, enough excitement to hold the reader's attention throughout, and despite the intricacy of the layered storylines, I don't think that there were any loose ends left dangling at the conclusion.