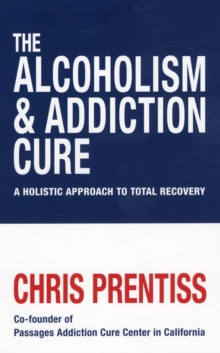 The Alcoholism and Addiction Cure : A Holistic Approach to Total Recovery
Paperback
Description
'It isn't true that once an alcoholic, always an alcoholic.
We believe in a cure. How would you like to be treated by someone who thinks you are incurable?
It's not a disease. It's a question of identifying the underlying problems.' Chris Prentiss For decades we've been hearing that alcoholism and addiction are incurable diseases, but Chris Prentiss demonstrates that the label of alcoholic or addict destroys the promise of full recovery.
Thousands are being freed from the old, limiting paradigms by using the groundbreaking method spelled out in this revolutionary book.
You will learn the three steps to permanent sobriety, the four causes of dependency, how your thoughts, emotions and beliefs are key factors in your recovery, how to stimulate your body's self-healing potential and how to create a personalised, holistic treatment program to completely cure your dependency. 'Freedom from dependency starts with understanding that alcohol, drugs and addictive behaviours are not the real problems, they are merely the substances or behaviours you or your loved ones are using to cope with the real problems - anything from deep emotional pain, ill health, or depression to hypoglycemia, a sluggish thyroid or brain-wave pattern imbalances.
Once the underlying problems are discovered and cured, the need for drugs, alcohol, or addictive behaviour will disappear - along with the craving.' Chris Prentiss's son was addicted to heroin, cocaine and alcohol for ten years.
Help was sought everywhere, but Pax relapsed again and again.
In desperation, the Prentisses finally created their own holistic, hand-tailored program that was a complete break from all other programs and that combined several effective therapies.
It saved Pax's life. Together father and son founded Passages, their treatment facility in Malibu, to help others find their own freedom.
Free Home Delivery
on all orders
Pick up orders
from local bookshops