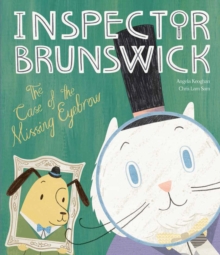 Inspector Brunswick : The Case of the Missing Eyebrow
Hardback
Description
After a long week of investigating crimes and mysterious events, the world's greatest cat detective, Inspector Brunswick, is taking a break to visit the art museum with his loyal assistant, Nelson.
They have barely walked through the door when Brunswick's whiskers tingle with curiosity.
Something is wrong - the museum's famous portrait of The Admiral doesn't look quite right.
What can it be? Using his famous powers of detection, Brunswick realises the awful truth - he is missing an eyebrow!
Brunswick and Nelson set off on a page-turning romp through the museum to track down the missing eyebrow.
To find the culprit, they will have to look high and low and search the paintings for clues...But in the end, even Inspector Brunswick is surprised by the result!
Introducing a set of endearing and eccentric characters with fantastical humour, this first mystery in the Inspector Brunswick series zooms in on the subtle details that make every work of art unique and encourages us to look closer at the world around us.
Information
Format: Hardback
Pages: 32 pages, Colour illustrations throughout
Publisher: Tate Publishing
Publication Date: 02/03/2017
Category: Picture books
ISBN: 9781849764445