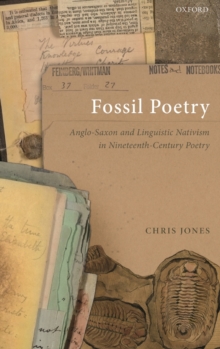 Fossil Poetry : Anglo-Saxon and Linguistic Nativism in Nineteenth-Century Poetry
Hardback
Description
Fossil Poetry provides the first book-length overview of the place of Anglo-Saxon in nineteenth-century poetry in English.
It addresses the use and role of Anglo-Saxon as a resource by Romantic and Victorian poets in their own compositions, as well as the construction and 'invention' of Anglo-Saxon in and by nineteenth-century poetry.
Fossil Poetry takes its title from a famous passage on 'early' language in the essays of Ralph Waldo Emerson, anduses the metaphor of the fossil to contextualize poetic Anglo-Saxonism within the developments that had been taking place in the fields of geology, palaeontology, and the evolutionary life sciences since James Hutton's apprehension of 'deep time' in his 1788 Theory of the Earth. Fossil Poetry argues that two, roughly consecutive phases of poetic Anglo-Saxonism took place over the course of the nineteenth century: firstly, a phase of 'constant roots' whereby Anglo-Saxon is constructed to resemble, and so to legitimize a tradition of English Romanticism conceived as essential and unchanging; secondly, a phase in which the strangeness of many of the 'extinct' philological forms of early English is acknowledged, and becomes concurrent with a desire to recover andrecuperate the fossils of Anglo-Saxon within contemporary English poetry.
The volume advances new readings of work by a variety of poets including Walter Scott, Henry Longfellow, William Wordsworth, William Barnes, Walt Whitman, Ralph Waldo Emerson, William Morris, Alfred Tennyson, and GerardHopkins.
Free Home Delivery
on all orders
Pick up orders
from local bookshops