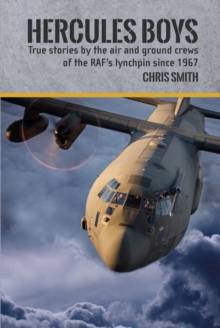 Hercules Boys : True Stories by the Air and Ground Crews of the RAF's Lynchpin since 1967
Hardback
Description
The Lockheed Hercules C-130 with its unflattering nicknames such as 'Fat Albert' and 'Roman Nose' has proven to be one of the most remarkable aircraft in the RAF.
Intended as a direct replacement for the likes of the Handley Page Hastings, Vickers Valetta and Armstrong Whitworth Argosy, its maiden service flight took place in October 1966 with little fanfare before it entered service the following year. During the Cold War, the aircraft's would-be role was as a tactical transporter to get troops and equipment into any sphere of operations.
Yet it would do far more. The later versions of the Hercules C-130J have gone on to be used for famine relief missions and been adapted for a role in air-to-air refuelling, though not with the RAF.
It has served in conflicts and training exercises in every climate from frozen Norway to Afghanistan via Africa and the Far East. Thanks to the durability of its design, including an ability to take off from short or makeshift runways, it has been critical to missions such as fighting insurgents in Afghanistan.
The Hercules was also vital to the success of the Falklands war, setting endurance records along the way. Despite plans for its retirement, the Ministry of Defence announced an overhaul that will see the Hercules continue in front-line operations until 2035, making it the longest-serving aircraft in the RAF's history. Hercules Boys contains a fascinating collection of first-hand and highly entertaining accounts by the ground and air crews themselves who adapted to everything that the elements, enemy and 'airships' in Whitehall threw at them.
A must for any military aviation devotee.
Information
Format: Hardback
Pages: 224 pages
Publisher: Grub Street Publishing
Publication Date: 30/04/2020
ISBN: 9781911621454
Free Home Delivery
on all orders
Pick up orders
from local bookshops