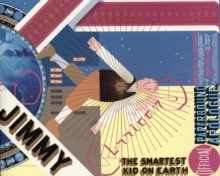 Jimmy Corrigan : The Smartest Kid on Earth
Paperback
Description
Jimmy Corrigan has rightly been hailed as the greatest graphic novel ever to be published.
It won the Guardian First Book Award 2001, the first graphic novel to win a major British literary prize.
It is the tragic autobiography of an office dogsbody in Chicago who one day meets the father who abandoned him as a child.
With a subtle, complex and moving story and the drawings that are as simple and original as they are strikingly beautiful, Jimmy Corrigan is a book unlike any other and certainly not to be missed.
Information
Format: Paperback
Pages: 380 pages
Publisher: Random House Children's Publishers UK
Publication Date: 22/05/2003
Category: Comics and Graphic Novels
ISBN: 9780224063975
Free Home Delivery
on all orders
Pick up orders
from local bookshops
Reviews
Showing 1 - 5 of 9 reviews.
Previous | Next
Review by sassafras
16/06/2015
A study in family dysfunction. This adult graphic novel is the story of Jimmy Corrigan's relationship with his father, a relationship that was nonexistent until his father sends the grown Jimmy an airplane ticket, out of the blue, for Jimmy to visit. Jimmy's visit with his father is predictably awkward and strained. Through dream sequences and other flashbacks, we get a picture of Jimmy's inner thoughts, childhood and reactions to his father. But that's only one part of the book-within the story of Jimmy Corrigan is the story of Jimmy's great grandfather who lived with a neglectful, abusive father who abandoned him at the Chicago World's Fair in 1893. As all of these elements tie together, you begin to understand the family dynamic that has come before Jimmy and how it shapes his Twentieth Century life. In the end, as Jimmy is coming to terms with his father and his newly found sister, he is robbed of the opportunity to forgive and build a relationship with his father. This story is told as much with the art work as with the text. There is definitely a family resemblance between fathers and sons in looks and mannerisms. This reviewer initially had trouble getting into the story and following the sometimes unusual sequence of panels. However, the story of Jimmy's grandfather is particularly captivating, and the conclusion made this graphic novel a rewarding, if not necessarily happy, read.
Review by duck2ducks
16/06/2015
Powerfully moving. Startlingly bizarre. Freakishly funny. And elegantly illustrated. I put off reading this book for far too long; I'm very very glad I finally picked it up.
Review by conformer
16/06/2015
Ware's heartbreaking, unshakable pseudoautobiography of excruciating detail and painstakingly stark beauty. Published in part as a magazine serial, you can tell the growth and change in the art and story from beginning to end, from the dark, slightly goofy opening panels to the drawn-out middle and ending sequences. Parts of the story read like well-paced film scenes, sometimes with only minute changes from one panel to the next: a raised eyebrow, a shifted finger, a raindrop growing on a windowpane and falling. Excellent overall, altho there are times when you want to smack Jimmy and tell him to grow a spine. Ask the girl out already!
Review by rrriles
16/06/2015
If you stumbled into the graphic novel genre because of Marjane Satrapi (<i>Persepolis</i>) or Art Spiegelman (<i>Maus</i>), you owe it to yourself to check out Chris Ware's magnum opus.Also required reading for anyone who (a) read comic books as a kid; (b) has ever felt nerdy / shunned / lonely; or (c) has parental control and/or abandonment issues.
Review by Knicke
16/06/2015
I'm familiar with other stuff from Ware, but had never read this. Since The New Yorker called it "the first formal masterpiece of the medium" (man, is The New Yorker ever pretentious sometimes), and since it's a good ten years old, I figured I should get around to reading it.Well, it's completely amazing, but it made me want to die. Seriously, I think it may be one of the saddest books I've ever read. I get more emotional about graphic novels in general, probably because of the additional visual stimulus. This one made me feel as if I were repeatedly being punched in the gut. Something about the idea of angst lasting for generations just kills me.Normally books like this (with so many bad things happening to the characters) make me feel manipulated emotionally, which makes it possible for me to maintain distance. This one goes right to the edge of maudlinness without going over, and so it just made me sad, sad, sad.I stayed up late and read it in one go, it was so good. But it was so sad, I had to pick up another book right away after finishing it and read a few chapters before going to sleep. Otherwise, I think I might have laid awake all night feeling stricken.