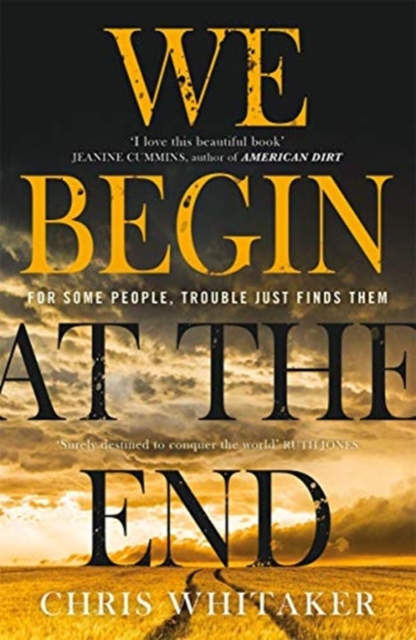 We Begin at the End : Crime Novel of the Year Award Winner 2021
Paperback / softback
Description
*THE THEAKSTON'S OLD PECULIER CRIME NOVEL OF THE YEAR 2021**WINNER OF THE CWA GOLD DAGGER FOR BEST CRIME NOVEL OF THE YEAR**WINNER OF THE NED KELLY INTERNATIONAL AWARD*A GUARDIAN BEST THRILLER OF THE YEARAn EXPRESS BEST THRILLER OF THE YEARAn i BEST THRILLER OF THE YEARA MIRROR BEST BOOKS OF THE YEARA WATERSTONES THRILLER OF THE MONTHREAD THE BOOK EVERYONE IS CALLING A MASTERPIECE! 'A beautifully written mystery, packed with unforgettable characters' JANE HARPER'Contender for thriller of the year' SUNDAY EXPRESS'An accomplished and moving story of crime, punishment, love and redemption' GUARDIANFor fans of Jane Harper's The Dry comes a powerful novel about the lengths we will go to keep our family safe.
This is a story about good and evil and how life is lived somewhere in between. Thirty years ago, Vincent King became a killer. Now, he's been released from prison and is back in his hometown of Cape Haven, California.
Not everyone is pleased to see him. Like Star Radley, his ex-girlfriend, and sister of the girl he killed. Duchess Radley, Star's thirteen-year-old daughter, is part-carer, part-protector to her younger brother, Robin - and to her deeply troubled mother.
But in trying to protect Star, Duchess inadvertently sets off a chain of events that will have tragic consequences not only for her family, but also the whole town.
Murder, revenge, retribution. How far can we run from the past, when the past seems doomed to repeat itself?
WHAT PEOPLE ARE SAYING ABOUT WE BEGIN AT THE END: 'Magnificent . . . an instant classic, a West Coast Where the Crawdads Sing . . . a special, vital novel. I'm grateful to have read it' A J FINN'Surely destined to conquer the world' RUTH JONES'A magnificent crime novel.
It deserves to win a hatful of awards. A BIG hat. Consider me a major fan' MARK BILLINGHAM'So beautifully written' LYNDA LA PLANTE'Incredible writing, characters so brilliantly drawn they jump off the page.
Outstanding' BA PARIS'I LOVED this book . . . This is a book to be read and re-read and an author to be celebrated' LOUISE PENNY'A stunning and heartbreaking book - will keep you gripped until the last moving page' CLAIRE MCGOWAN 'An exceptionally beautiful and accomplished crime novel' ALI LAND'One of the best books I've ever read' FIONA CUMMINS'An absolute masterclass in crime writing and story-telling' JO SPAIN'One of the year's best crime reads' VASEEM KHAN'One of my favourite books of all time' M.
W. CRAVEN, winner of the CWA's Gold Dagger Award'Breathtakingly beautiful.
Another stunning story from the genius of Chris Whitaker' COMPULSIVE READERS 'A spellbinding masterclass in storytelling . . . one of the best books I have ever had the joy to read' ALEX J BOOKS BLOG'A masterpiece . . . a contender for my top book of 2020' FOR WINTER NIGHTS BLOG'I was totally seduced by this absolute masterpiece . . . took my breath away' SUIDI'S BOOK REVIEWS'This book is bound to become a classic . . . Reader, Chris Whitaker's book made me cry . . . such is the power of this writing' LIVE AND DEADLY BLOG'Utterly brilliant . . . This isn't just crime fiction, this is a masterclass' MELANIE READS BLOG'A masterpiece of storytelling with clever twists and an ending to knock you sideways' CANDIS MAGAZINE 'This heart-rending story . . . is among the most powerful and moving I have read in years' DAILY MAIL 'Cements Whitaker's status as one of the most talented authors writing today' HEAT MAGAZINE'Masterly novel' SUNDAY EXPRESS'A dark yet painfully human tale that is impossible to forget' CRIME MONTHLY'Beautifully written and deeply moving' SUNDAY TIMES CRIME CLUB'A gorgeous, crystalline novel' JEANINE CUMMINS, author of AMERICAN DIRT'Heartbreaking and profound, this is my thriller of the year' MIRROR
Information
Format:Paperback / softback
Pages:464 pages
Publisher:Zaffre
Publication Date:06/08/2020
Category:
ISBN:9781785769405
Information
Format:Paperback / softback
Pages:464 pages
Publisher:Zaffre
Publication Date:06/08/2020
Category:
ISBN:9781785769405